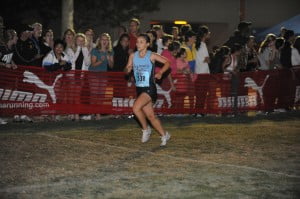 By Mark SHELTON
The Crescenta Valley High School Falcons cross country teams got to go out of town and show 'em how it's done in the big city. On Saturday, Oct. 10 at Woodward Park in Fresno (the sight of the California State cross country championships), the 2009 meeting of the Asics/Clovis Invitational cross country meet was, as CV head coach Mark Evans stated, "a fantastic day to run with fantastic results."
The CVHS girls varsity won first place on the day, led again by number one runner Claudia Pham, a junior who finished sixth in the race, followed by sophomore Brooke Moultrie in 10th place and sophomore Ali Johnson in 27th to set the lowest score of the 35 teams running with only 119 points. Freshman Callie King and junior Anneke Kakebeen rounded out CV's top five finishers to propel the team to the top spot. Running in the sixth and seventh positions were senior Eliza Collison and junior Diane Lombardi, respectively. Moultrie was the third most improved runner in the entire varsity race, beating her time from last year's race by more than 2:25 minutes. Pham was :24 seconds faster than last year.
In the boys varsity race, sophomore Mike Duncan finished 10th followed by sophomore Josh Carlos, junior Corey Williams, freshman Aaron Esparza and sophomore Dylan Devens to put CV's top five finishers in 15th place out of the field of 32 teams with 400 points. Junior Jordan Miller and junior Bob Anderson were the sixth and seventh team runners.
"It was a good race. Aaron Esparza, a freshman, turned in a remarkable performance against a field of mostly juniors and seniors." said coach Evans. "We're looking forward to good things from this young man in years to come."
Dana Hills HS took first place with 60 points.
The girls frosh/soph race had CV placing 14th with 325 points in a race won by Canyon (Anaheim) with 34 points. Monica Lyons, a sophomore, and Katie Callister, Maddy Gabor, Amber Zadravecz, and Kelly Backes, all freshmen, showed that CVHS is a young and growing team that put out a tremendous effort. The boys frosh/soph race saw sophomore Tyler Bradshaw, freshman Eduardo Menendez, and sophomores Adam Akopyan, Tom Gustovich and Brandon Baum combine their scores to take 18th place with 454 points in a race won by Arcadia HS with 64 points.
"It was a fast course, mostly hard packed trails over rolling hills, and really gave our kids a chance to let loose." said Evans, "Over 3,000 total runners on a 5000 meter course, which is just a little longer than our regular 3 mile races. It was a great prelude to our regular league race this Thursday at 3:15 in Crescenta Valley Park where we will continue building and improving as the season moves forward."