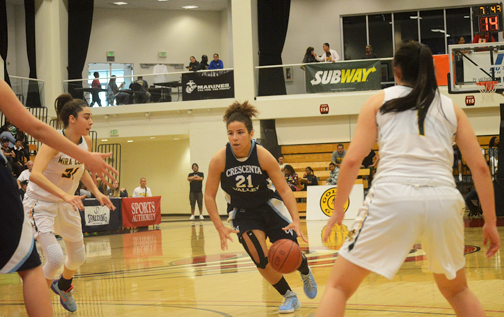 The Crescenta Valley girls' varsity basketball team ended its season last Saturday at Mater Dei High School in the second round of the Division II state playoffs. The 69-32 defeat to the Monarchs may have been tough to swallow, but considering all the Lady Falcons accomplished, the season is something to be proud of.
The Falcons (25-10) captured their first CIF championship in history, defeating Mira Costa 37-36 in the Division 1A finals at Azusa Pacific University on March 5. The thrilling contest saw Mira Costa miss two consecutive free throws that would have given them the lead with three-tenths of a second remaining. Instead, it was the Falcons who celebrated on the court. The win was the first championship for either the CV boys or girls in school history.
Last week in the first round of the state regional playoffs, the Falcons again survived a close one, this time beating Spring Valley Mount Miguel 57-55. It was the Falcons' 12th straight victory, dating back to the Pacific League regular season.
The loss to Mater Dei ends the high school careers of Alisa Shinn, who had 24 points, 14 rebounds ad 10 blocks against Mount Miguel, and Josie Brock, who scored nine points in the game. The two senior stalwarts will also be leaving with Arpineh Grigorian, Karine Hairepetian and Maya Johnson.