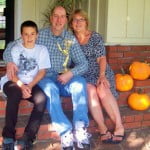 By Shana LiVIGNI
…Gerry Lentz for Outstanding Sound Mixing for a Comedy or Drama Series – "House M.D." the "House Divided" episode (the crowd cheers).
That is what Gerry Lentz heard last September at the 2009 Creative Arts Emmy Award presentations. Local man Lentz, his wife Linda and 13-year-old son Kevin are long-time La Crescenta residents who love this community. Lentz has been nominated in this category three times and nabbed several other awards for his work in a long line of feature films and television.
You'll find his name in the credits for movies like "The Blair Witch Project," "Das Boot," "The Opposite of Sex," "Mortal Kombat" and "Gettysburg"(MPSE nomination). His recording and mixing expertise in TV sound also includes "Heroes," "Crossing Jordan," "The Agency" and music specials such as "The Linda McCartney Story," "Rock 'n' Roll Tonite" and the Showtime special "Crosby, Stills and Nash."
Lentz got the bug very early on when he started college at Penn State and has been in this industry ever since. "I wanted to go to college for television, broadcasting, radio and things like that. So I went to be an engineer and I found out that calculus wasn't my thing. While I was there and trying to find out what my major was going to be, there was this little radio station in the dormitory. Of course, they wanted anybody to come and work in that little closet outside of the cafeteria," he recalled with a laugh.
He started playing Beatle records and all kinds of pop music and later graduated to the campus FM station, then on to become a commercial rock station DJ. He was the program director for a short time before choosing to get out of radio then worked with a local club band. When the drummer quit and took off for L.A., 21-year-old Lentz joined him.
"I wanted to be in the music business and in the studios working with music. I was a roadie for a while doing some major tours," he said. "I got to work at a couple of recording studios in the area and, when that got silly, I got into post production and started doing work in film and television." Lentz has been with Universal
Studios since 1999 and also works on independent projects from his home office which offers him a freelance life style.
The Lentz home has a private studio for his work and a welcome home setting for every holiday that he and his family love to share.