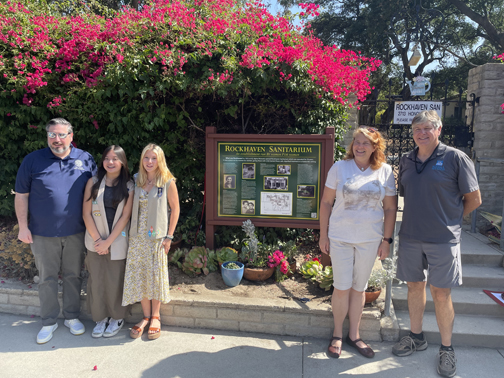 On Saturday Girl Scouts Naiya Rothermund and Maia Vergara from Troop 1051 revealed their Silver Award project – an interpretive sign for Rockhaven Sanitarium.
Rockhaven Sanitarium was dedicated to women's mental health. Agnes Richards founded Rockhaven in 1923 after working as a nurse in mental facilities that were not kind to women.
Richards, and later her daughter Patricia Traviss, never referred to those in her care as "patients" but as "ladies." They were treated with respect and Rockhaven, with its well-manicured grounds and artwork, was a place where healing could begin.
Often women would be abused in mental facilities and could be committed to one if they had issues relating to menopause or if their husband just didn't like his wife's attitude.
Rothermund and Vergara first heard about Rockhaven when they attended an event at the Old Stone Barn at Dunsmore Wilderness Park. There they met members of the Historical Society of Crescenta Valley and Friends of Rockhaven (FOR).
"We first met them at the Stone Barn. They wanted help with a cleanup at Rockhaven," Rothermund said.
When the two Girl Scouts saw Rockhaven and heard its story, they were hooked.
"We had a great fascination with this place," she said.
Vergara added the buildings and the story were historic.
Both agreed the historical location was important – not just to the community but also to women's history.
The Girl Scouts told Joanna Linkchorst, president of FOR, they wanted to create an interpretive sign in front of Rockhaven so everyone would know the historical value of the property.
Linkchorst advised them they would have to reach out to the City of Glendale, which owns the property. It just so happened the day they presented their idea to FOR then-mayor Ardy Kassakhian was having his monthly Coffee with the Mayor in Montrose.
"We told him our idea and he told us we had to present it to the City Council," Rothermund said.
The very next Tuesday, the Scouts found themselves standing at the podium presenting their idea to the Glendale City Council.
"It was nerve wracking," Vergara said.
The Council approved the sign and the Girl Scouts got to work.
Rothermund's neighbor's son is a sign maker and said he would be happy to help. Todd Olson, who owns Sierra Sign Images, said he thought it was a great project and wanted to do what he could to help.
Glendale Parks Dept. helped Olson place the sign in front of Rockhaven and on Saturday the grand reveal was held.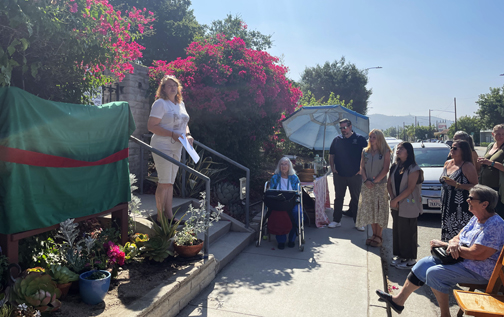 Two people who were at the celebration had a personal connection with the site. One was Maurice Schmidt, Rockhaven's accountant, and the other was Jeanne Reese, a nurse who worked at Rockhaven from 1981 to 2001.
She and Traviss were the same age and formed a strong friendship that lasted even after Rockhaven was sold.
"We got together every Wednesday," Reese said.
Traviss passed away on March 11, 2023.
Reese said she loved her time at Rockhaven.
"My first day here it was cold and rainy and I thought, 'How did I end up working here?'" she said of her first impression of Rockhaven.
"It was a very unique place," she said. "When women came in we accepted them the way they were."
She added toward the end of her career at Rockhaven many of the women were diagnosed with Alzheimer's. The sanitarium gave them a calm place where they were cared for and respected.
"I don't know if this [type of] place would work today. I don't think it would," Reese said.
Many times, she said, Traviss would allow women to stay even if their insurance or funding wasn't available.
"They had wonderful treatment, and it was private," Reese added.
Kassakhian was at Saturday's event to see it come full circle, from concept to execution.
"I thought it was a great idea," he said when the sign was presented. He added that the community was lucky to have so many active Boy and Girl Scout troops that support the area.