Best Services for Best Friends at Luxurious Pawz
I have been rescuing animals since I was 4 years old. I would always hear kittens crying from afar in bushes. I would bring them home and bottle-feed them with my mother and, of course, they would end up becoming a part of our family. By the time I was in high school, we had about 10 cats.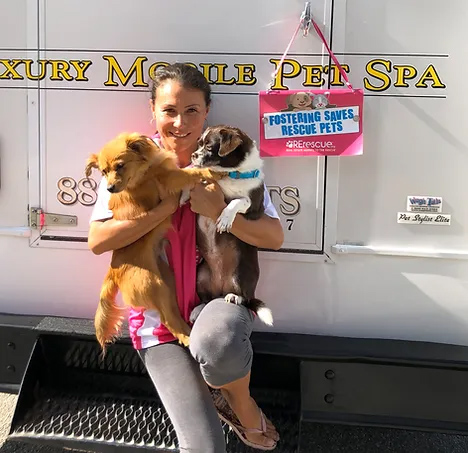 I've always had the endeavor to start my own animal rescue. When I started volunteering at the local shelters, I saw so many animals that needed to be bathed and properly groomed. Most of them were filthy, matted to the skin and unhappy. It was crucial for me to learn how to groom dogs and cats so that when I would rescue an animal, I would have the knowledge and skill on how to properly use clippers and shears so that I would not injure an animal. A happy dog that feels clean and comfortable will more likely be adopted.
I have rescued dogs with valley fever and cancer; an amputee, a near-death unable to stand up, a dog used as bait for a dog fighting ring and a dog with an extended stay at a shelter. I've seen how loving kindness is truly appreciated. All these animals brought so much joy to my life because I knew that they overcame abuse, a physical condition and/or neglect. I have rescued feral cats, too, that survived life- threatening conditions. All of these animals need love, attention and the help of caring animal lovers. The reward is in both the journey and the destination.
This is when my dog grooming endeavors started. I went to dog grooming school and received my certification in 2012. Since then, I have been a groomer and worked for many reputable grooming salons and mobile dog grooming businesses in the area.
Today, I dedicate myself to my mobile dog grooming business Luxurious Pawz. Ten percent of proceeds earned will help with the cost of grooming dogs and cats at local shelters and animal rescues organizations.
My purpose in life is to serve animals.
For more information, call Christina at 855-LUX-PAWZ (855-589-7299).