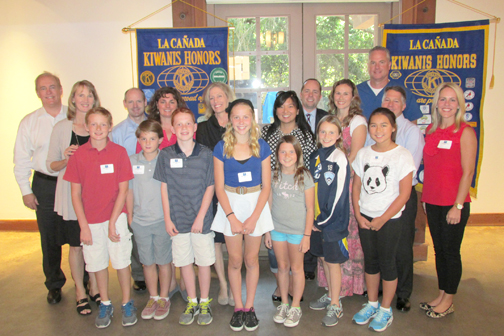 The Kiwanis Club of La Cañada reached into the local schools to select young people considered "TERRIFIC (Thoughtful Enthusiastic Respectful Responsible Inclusive Friendly Inquisitive Capable) Kids." Seven young people from Palm Crest Elementary School were honored at a recent meeting of the club at Van de Kamp Hall at Descanso Gardens. Proud parents accompanied most of the students.
Honored were Chase Kerstein, a boy who is known to fellow students and teachers as someone who loves to chat and someone who is characterized as a friend to all. A classroom leader, Chase is a math whiz and works with foster children.
Stephen Broberg, grandson of former school president Jeannie Broberg, is a high scoring soccer player who is a voracious reader. He takes after his late grandfather, Dr. Charles Broberg, in performing magic tricks.
Ryan Purdy, a member of the GATE (Gifted and Talented) program, is known as the Palm Crest peacemaker. He is an outdoorsman who is active in Troop 395 of the Boy Scouts.
Emily Martinez is known for her generous personality. She constantly reads and, for the past three years, has been a very active soccer player.
Kayley Bond loves music and plays both the piano and the violin. She is a straight 'A' student and loves to cook. She wakes up every morning at 6 a.m. and makes breakfast for the family, which mom Marsha said she truly appreciates.
Allison (Ali) Kuszyk is a math Olympiad and is very involved in her church youth group where she volunteers at the Children's Hunger Fund and leads worship services at the Verdugo Vista retirement community. She likes all things Harry Potter and loves to write and paint.
Alexandra Syrkin is a completive swimmer who practices two hours every day at the Rose Bowl and competes almost every weekend. This past summer she placed first in the Junior Olympics championships.
Mihir Sukhame was honored but could not attend the luncheon.
Contributed by Al RESTIVO