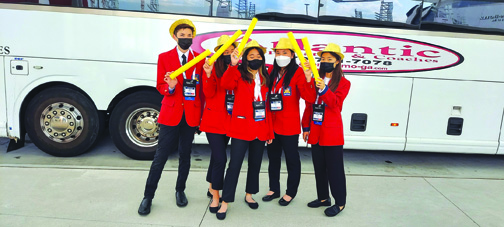 By Lori BODNAR
Crescenta Valley High School (CVHS) Academy of Science and Medicine students traveled to Atlanta, Georgia for the SkillsUSA National Leadership and Skills Conference. The trip was worth it: the CVHS science research team won second place in the National SkillsUSA competition held June 20-24.
Nearly 1,7000 schools were represented. More than 6,500 state contest winners competed in 108 different trade, technical and leadership fields. Some leadership contestants directed meetings with parliamentary procedure; other contestants gave extemporaneous speeches based on a question related to current events with some research but very little preparation. Over 850 committee members from different industries helped plan the competitions.
From CVHS Academy of Science and Medicine the science research team of Rosalia Park, Michelle Chung and Riley Keum brought home the silver medal in the SkillsUSA Career Pathway Showcase in health services. Other CVHS SkillsUSA national finalists who competed were Stella Kim and Eric Eubank.
The project of the CVHS science research team was titled, "Thirdhand Smoke Pollution Detected in a High School With Smoking Prohibitions." Science research team member Park, who will be the senior co-president of the Academy for the 2022-23 school year and was previously the sophomore and junior co-president, said, "My project focused on thirdhand smoke, which is the toxic residue that remains and lingers onto indoor surfaces after smoke clears."
To support their research Park and her team collected samples from the student bathrooms at Crescenta Valley High School.
"After collecting these samples, they were taken to the Public Health laboratory at San Diego State University [so they could be analyzed] for the amounts of nicotine found in each sample," she explained. "The data proved there had been a great accumulation of thirdhand smoke pollution on the indoor surfaces of the student-used bathrooms, causing an immediate draw to health concerns."
The students enjoyed competing in National SkillsUSA.
"Meeting people from all 50 states was the best part of the National SkillsUSA competition in Atlanta," said Park. "The excitement that I felt from the different participants really helped me build up the drive to perform my best. The competition part of nationals was probably the most nerve-wracking part, but the most rewarding at the same time. Being able to present my research project at a national level was an experience like none other."
The CVHS Academy of Science and Medicine helped prepare the students for the SkillsUSA national competition.
"The science research class of the Academy of Science and Medicine really prepared my team and me for the SkillsUSA National Competition," Park said. "The continuous feedback from [teachers] Orenda Tuason and Alamelu Arunachalam and our coaches helped us to be extremely successful. We also did practice run-throughs of our presentation in front of different audiences through the Academy, which helped us as well."