By Steve ZALL and Sid FISH
August 2023
It's been really hot lately, so a good way to beat the heat is to see one of these great live shows playing in our local theaters where they have air conditioning!
COVID protocols continue to be dictated by each individual venue, so bring a facemask to wear during the show in case the venue requires it. It's a good idea to check with theatres before attending shows to find out what is their current policy.
The information presented in this column is the latest available at the time of printing; however, it should be verified with the theatre before definite plans are made.
Here are the shows that have announced opening dates for this month or are already running:
Opening
"Pipeline" Nya is an inner-city high school teacher desperate to give her son opportunities that her students will never see. When a controversial incident at his upstate private school threatens to get him expelled, Nya must confront his rage and her own choices as a parent.
Written by Dominique Morisseau and directed by Bryan Keith, it runs through Aug. 19 at the Harold Clurman Laboratory Theater in the Art of Acting Studio in Hollywood. For tickets, call (323) 601-5310 or visit www.web.ovationtix.com/trs/pr/1166054.
"Mr. Yunioshi" The title "Mr. Yunioshi" refers to the name of the character portrayed by Mickey Rooney in the 1961 film "Breakfast at Tiffany's," directed by Blake Edwards (Rooney's former roommate). Rooney portrays Audrey Hepburn's neighbor. It is a cringe-inducing characterization in which Rooney dons yellow face and wears appliances to "play Asian." The play "Mr. Yunioshi" reverses the real-life event by casting Asian American actor J. Elijah Cho to play Mickey Rooney. Rooney is depicted here as something of a narcissist, at first believing he is being cast as the romantic lead opposite Ms. Hepburn. When it becomes apparent that he is being tapped to play the role of Mr. Yunioshi, Rooney has to deal with the question: Should he play the Asian character? We know from the cinematic record what he ultimately did, but this play shows how he arrived there.
Written and directed by J. Elijah Cho, it runs Aug. 4 through Aug. 13 at the Sierra Madre Playhouse in Sierra Madre. For tickets, call (626) 355-4318 or visit www.sierramadreplayhouse.org.
"Venus in Fur" Set in modern New York City, Thomas Novachek, a beleaguered director/playwright, has suffered through a long day of abysmal auditions for his adaptation of the German sadomasochistic novel "Venus in Fur" until Vanda, a crass and pushy actress, stumbles into his audition room. While Vanda shares the lead character's name, she lacks her sophistication. However, when Thomas agrees to let Vanda read for the role, she displays a surprising understanding of the material. Working through the script with Thomas playing the masochistic male lead, the role play becomes intense, erotic and less like acting.
Written by David Ives and directed by Mark Blanchard, it runs Aug. 4 through Sept. 3 at the McCadden Place Theatre in Los Angeles. For tickets, visit www.onstage411.com/venusinfur.
"Much Ado About Pooh" NOTE: This show is free but attendees must have advance reservations to attend!
A prince, Christopher Robin (Don Pedro), his two friends Pooh and Tigger (Claudio and Benedick), and his disgruntled brother Eeyore (Don John), decide to visit a lord and his family in the Hundred Acre Wood. The lord Owl (Leonato) has a daughter named Piglet (Hero) and a niece named Rabbit (Beatrice) who forge friendships with these visitors. Their adventures are rife with mistaken conversations – some innocently misinterpreted, some wrongly intended. There is jealousy, trickery and deceit but, just as in both classic tales, the truth comes out in the end and everyone are better friends for it.
Written by Rynn Vogel and directed by Adam J. Jefferis, it runs Aug. 5 through Aug. 27 at the Media Park in Culver City. For tickets, call (310) 838-4264 or visit www.theactorsgang.com.
"Contractions" Emma's been seeing Darren. She thinks she's in love. Her boss thinks she's in breach of contract. The situation needs to be resolved. In a series of cordial but increasingly tense conversations, the two dissect the differences between "sexual" and "romantic," negotiate the nature of Emma's interoffice relationship, and face the consequences of shrinking privacy and binding contracts.
Written by Mike Bartlett and directed by Brooke Williams, it runs Aug. 9 through Aug. 13 at the Broadwater (Black Box) in Hollywood. For tickets, visit www.contractionstheplay.eventbrite.com.
"The Red Suitcase" follows the life of Pogue from his unusual birth to the death of his father. The play explores the sometimes difficult relationship between fathers and sons and the many moments, stories and characters that build a person and a life. Pogue is led on a journey to unpack his memories that takes him from "we are the sins of our ancestors" to "we are the hope of our ancestors." A play of family, survival and finding ourselves in the stories that made us.
Written by Jiggs Burgess and directed by Del Shores, it runs Aug. 12 through Sept. 3 at the Broadwater Theatre Main Stage in Los Angeles. For tickets, visit www.p3theatre.biz/theredsuitcase.
"I'm Not a Comedian … I'm Lenny Bruce" chronicles the life and death of the most controversial comedian and undisputed legend of all time … Lenny Bruce. His personal pain, sharply funny social commentary and completely original, freestyle comedy left a lasting impact on today's poetry, politics, music, film – and of course – comedy. His unwavering commitment to, and passion for, free speech led to numerous obscenity charges and arrests. Bruce fought for freedom of speech all the way to the Supreme Court, and died of an accidental overdose in 1966 while out on appeal. Lauded by fans and former friends of Bruce, Marmo's crowd-shocking portrayal brings the notorious funnyman to life with all the electrifying, insightful and comedic brilliance as the one and only Lenny Bruce himself.
Written by Kitty Bruce and directed by Joe Mantegna, it runs Aug. 17 through Aug. 19 at the Laguna Playhouse in Laguna Beach. For tickets, call (949) 497-2787 or visit www.lagunaplayhouse.com.
"Elephant Shavings" The stage is set for drama, humor and absurdity when one member of a theater's acting ensemble finds herself challenged to confront the common dreams we have about the nature of reality. An engaging and fun introduction to both Eastern philosophies, including Buddhism, Hinduism and Sufism, and to modern Western teachers like Rupert Spira and Mooji, "Elephant Shavings" evolved out of Sossi's enduring interest in the realm of metaphysics and his lifelong quest to understand the core essence of human consciousness, awareness and "the meaning of life."
Written and directed by Ron Sossi, it runs Aug. 18 through Oct. 1 at the Odyssey Theatre in Los Angeles. For tickets, call (310) 477-2055 Ext. 2 or visit www.OdysseyTheatre.com.
"Kill Shelter" Colleen manages an open-admissions, government-funded animal shelter. This means her shelter accepts all animals. When animals prove unadoptable because of advanced age, illness, injury or aggressiveness, they may be subject to euthanasia. Overcrowding at the shelter may also put animals in line for euthanasia. Colleen is a compassionate animal lover whose duties put her at odds with her instincts. Colleen is also the single mom to a teenager who disapproves of her mom's job. When young Ellie finds herself pregnant by a boyfriend who withdraws his affection, her understanding of her mother's work is suddenly brought into sharp focus. Complicating things further is Colleen's burgeoning romance with a much-younger subordinate.
Written by Ashley Rose Wellman and directed by Shaina Rosenthal, it runs Aug. 24 through Oct. 1 at the Theatre of Note in Hollywood. For tickets, visit www.theatreofnote.ludus.com.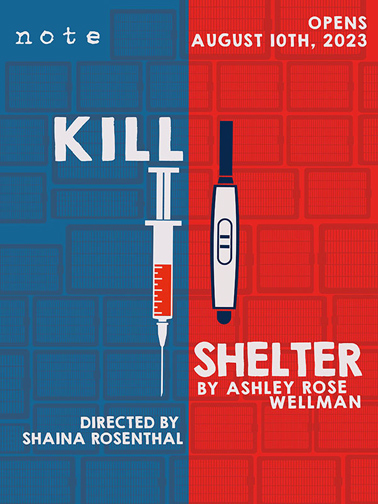 "Exit Wounds" What was the tragic event that caused Linda Sadowski (Suanne Spoke) to become a hoarder? Why has she retreated from life and not seen her son (Michael Polak) for over 25 years? How can Linda stem the ripple effect of the family's past and save the 17-year-old grandson (Hayden Kharrazi) she's never met?
Written by Wendy Graf and directed by Caryn Desai, it runs Aug. 25 through Sept. 10 at the International City Theatre in the Long Beach Convention & Entertainment Center in Long Beach. For tickets, call (562) 436-4610 or visit www.InternationalCityTheatre.org.
"A Slight Ache" A tragicomedy of manners is a funny, ominous and unsettling journey into the human psyche. As married couple Flora and Edward breakfast in their garden, a wasp circles menacingly overhead while Edward feels "a slight ache" in his eyes. And whom is that derelict match seller hovering just beyond the garden gate?
Written by Harold Pinter and directed by Jack Heller, it runs Aug. 26 through Oct. 1 at the Odyssey Theatre in Los Angeles. For tickets, call (310) 477-2055 Ext. 2 or visit www.OdysseyTheatre.com.
Continuing
"A Black and White Cookie" A black and white cookie is a classic New York deli treat, a large cookie with half-chocolate and half-vanilla frosting. It's also a metaphor for the unlikely friendship between the two fellows who are the main characters of this new comedy. Harold Wilson is a 71-year-old Black veteran of the Vietnam conflict. A Republican, he voted for Nixon, Reagan and Dubya. He's had a newsstand for 30 years but faces imminent eviction. He reopened his business after the pandemic lockdown only to find his rent has skyrocketed.
Albie Sands, a burnt-out '60s radical, is nominally Jewish (he's an atheist whose favorite sandwich is ham and Swiss). He wants Harold to fight his landlord to save his business. Carol, Harold's antisemitic niece, distrusts Albie and wants Harold to take a buyout from his landlord. Will Harold and Albie stand up to the person that Albie calls a "corporate parasite?" Or will they stand down and be swept aside?
Written by Gary Morgenstein and directed by Tudi Roche, it runs through Aug. 20 at the 905 Cole Theatre in Hollywood. For tickets, visit www.cookie.bpt.me.
"Group Therapy" is a serious comedy about three people trapped in a therapist's waiting room where they learn things about one another they would rather not know. Running time is 85 minutes with no intermission.
Written by Peter Lefcourt and directed by Terri Hanauer, it runs through Aug. 20 at the Theatre 68 Arts Complex in North Hollywood. For tickets, visit www.OnStage411.com/therapy.
Please help keep our theaters open by supporting live theater whenever you can.
We wish everyone good health, prosperity and happy times throughout the year.
Sincerely,
Steve Zall, Publisher, Scene In LA
Sid Fish, Co-Publisher and Editor, Scene In LA