It's White Friday in Montrose!
Oh it's the very beginning of our favorite time of year! The memories start on White Friday. Everywhere else is black, but not "Mayberry" Montrose! Around here we like to do things the old fashioned way and it involves white snow falling from the trees as we light the town and trees with thousands of sparkly white lights while carolers sing and Santa bellows "ho-ho-ho". It is truly a sight to behold! There's even going to be a community sing-a-long, a new tradition that began last year and was so special to all. The action takes place at Honolulu & Ocean View. Be there!
Shop Montrose on Small Business Saturday!
When you put a group of fun, creative people in a room, this is what happens! As our neighborhood champion for Small Business Saturday, I shared some of the loot we received from American Express with our Marketing Committee. If you have an AMEX card register it online now to save up to $30 when you shop participating small stores. You will know them by the Shop Small welcome mat displayed. You will definitely want to shop early and score the Shop Small tote  designed by Rebecca Minkoff. It's really nice and one you will be proud to use! See the AMEX map for stores.
Holiday FUN the Whole Weekend in Montrose!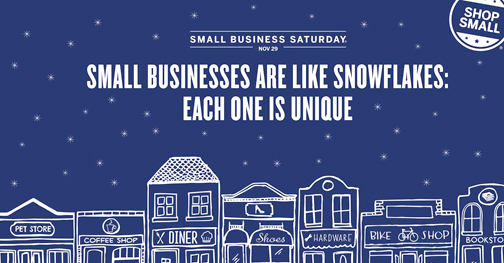 Oh, the graphics in this ad depict the small town way of life that everyone longs for. We are so blessed to have it right here! On behalf of the Montrose Shopping Park merchants, Happy Thanksgiving to you and your family! We are honored to be a living Christmas card for you, a safe place where you can relax and truly enjoy the holiday season. Yes, you are unique as is each of our "one-of-a-kind" shops. A little something for everyone in a beautiful Christmas setting! So thankful for Montrose!