By Ruth SOWBY
No one knows how to throw a luau party as do members of the Filipino American Business Assoc. of Glendale (FABAG). Close to 100 FABAG members and their guests, flowered leis adorning all, gathered at the Glendale YMCA on Saturday, July 29 for their annual installation of 2023-24 officers and induction of new members.
The evening started off with a bang as executive board member Celia De Fato led the group in a spirited Hawaiian hula dance. Although there were non-dancers among them, each bravely pressed forward, hips swiveling in time to the island music.
Glendale Mayor Dan Brotman provided a dignified presence, eschewing the dancing but game to wear a lei around his neck. He installed new president Marnie Lacsamana. Also leading the 2023-24 board were secretary Rose Linda Gonzalez and treasurer Nelly Costanios.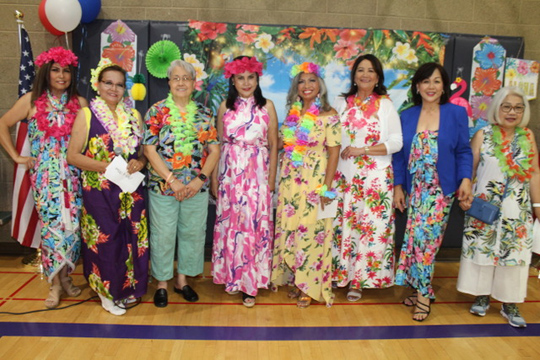 Installed as new members were Emmett Carr, Grace Manlapaz and Aida Rasper. Earlier in the evening, outgoing president Jo Solomonson was recognized and thanked for her service. She was presented with a crystal vase and roses by Vice President Olivia Lopez and Past President Edith M. Fuentes.
The Filipino-American Business Assoc. of Glendale was organized in 1990 under the Cultural Exchange Committee of the Glendale Chamber of Commerce. Chamber members wanted to improve intercultural relations among the many ethnic communities in Glendale by reaching out to the diverse communities.