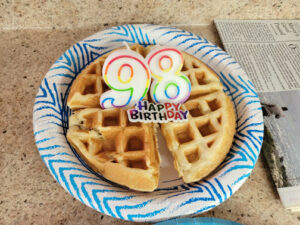 By Mary O'KEEFE
On Saturday morning, the veterans who belong to American Legion Post 288 celebrated the Post's 98th birthday. Cake was added to their monthly breakfast and many surprise guests stopped by to share their birthday wishes.
Several Glendale police officers and Glendale firefighters stopped by, not only with a birthday wish but also to thank the veterans for their ongoing support. The vets had recently dropped off hundreds of gift bags through the Operation Gratitude program to first responders. GPD Chief Carl Povilaitis also stopped by on his way to the Baker to Vegas law enforcement relay race.
The Crescenta Valley Town Council was represented by its treasurer, Donna Libra. Members of the CV Chamber of Commerce and Scouts from Troop 288, both the girls and boys troop, Crew 288 and Pack 360, made sure to offer congratulations.
Veterans from American Legion Post 288, along with the Veterans of Foreign Wars Post 1614, volunteer and support local organizations throughout the area, and veteran-specific organizations throughout the country. Veterans who are interested in joining Post 288 can do so by calling (818) 541-1336.