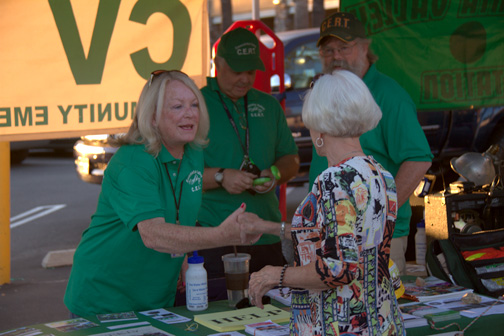 By Mary O'KEEFE
There was a time when residents living in American towns knew all their neighbors, they never locked their doors and everyone knew the "cop on the beat."
As little towns grew into cities and small suburbs began to expand, crime increased as well. There is more crime now than in the past; however, the basic deterrents haven't changed – neighbors watching out for neighbors.
The basis of National Night Out, which began in 1981, was to bring together the police and the community. On Tuesday, Aug. 4, NNO events will be held throughout the nation including locally in Glendale, La Crescenta, La Cañada, Sunland-Tujunga and Eagle Rock.
"In Glendale we have about 40 National Night Out events," said Sgt. Sean Riley of the Glendale Police Dept.
Riley is overseeing the NNO events for the GPD, but the individual events are from the community.
"[NNO events are] organized and driven by neighborhoods," Riley said.


The events are designed to bridge the gap between law enforcement and the community, he added.
"It is more about the neighbors interacting and knowing their neighbors and putting together their own Neighborhood Watch groups," he said. "Neighborhood Watch [groups] are extra sets of eyes for [police]."
There are several neighborhoods recognizing NNO with some larger community events in some areas.
For Glendale, it is all about neighborhoods with about 10 events in the Crescenta Valley area of Glendale.
Two long-time neighborhood organizations, Sycamore Woods and Los Olivos Neighborhood Watch groups, are inviting the public to stop by and visit their events. GPD will be on hand to answer any questions concerning crime in the area and will help those who would like to set up their own Neighborhood Watch group.
The Stewart family is hosting the Los Olivos Lane NNO event that will include a potluck picnic.
"We want as many people to show up as we can get," Ray Stewart said.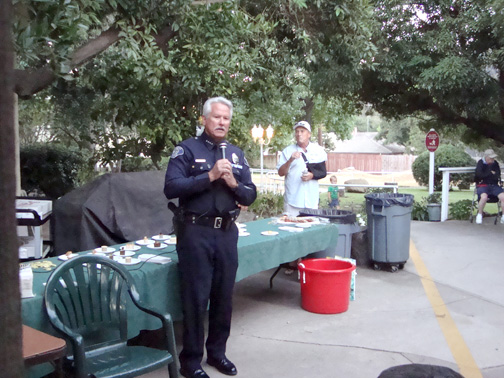 He is asking anyone coming to the event to bring "your favorite snack or specialty dish and some drinks."
The event will be held in the 3900 block of Los Olivos Lane from 5:30 p.m. to 9 p.m.
The Sycamore Woods event will be held at the Crescenta Valley Water District station at 3730 Glenwood Ave. from
6:30 p.m. to 8:30 pm.
There will be a raffle and an "array of delicious desserts," stated Trissie Badger, a member of the Sycamore Woods Neighborhood Watch.
La Crescenta and La Cañada Flintridge are combining their NNO efforts. Los Angeles County Sheriff's Dept. Crescenta Valley Sheriff's Station will be sponsoring an event at Ross Dress for Less, 2111 Foothill Blvd. in La Cañada.
"We want to  [alternate the locations of] the event each year," said Dep. Jesse Alcala.
In the past, the event has been held at the parking lot of Ralphs market in La Crescenta.
There will be representatives from the community including the La Crescenta Library, Crescenta Valley Chamber of Commerce, CV Town Council, Prom Plus, CV High School Robotics, CV Water District, Foothill Municipal Water District, Armenian National Committee of America, L.A. County Fire, Fire House youth center, First Baptist Church and Montrose Search and Rescue.
"We will have a shredding [source] there," Alcala said.
There will be information from law enforcement and fire, "goodies for the kids" and a barbecue with hot dogs, water and chips. The event runs from 5 p.m. to 8 p.m. All are welcome.
Eagle Rock is also having an event that will be held at the Eagle Rock Plaza, 2700 Colorado Blvd. The event will have representatives from LAPD and L.A. Fire in addition to information booths. The event begins at 6 p.m.
LAPD will also be hosting NNO events at Little Landers Park, 10116 Commerce Ave., Tujunga from 6 p.m. to 9 p.m. There will be booths, a band and hot dogs. Another event will be held at Stonehurst Recreational Center, 9901 Dronfield Ave. in Sun Valley from 6 p.m. to 9 pm.