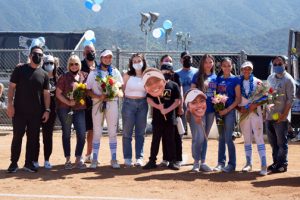 By Justin HAGER
Coaches, parents, fans, teammates and even opponents rolled out the red carpet at Crescenta Valley High School on Tuesday for the graduating seniors on the girls' softball team. Soon-to-be graduates of Burroughs High School received flowers from their CVHS counterparts and the home team members of the class of 2021 shared a special pregame ceremony that featured a balloon arch, flowers, autographed game balls, family, friends and more than a few tears of pride and joy.
For CVHS softball coaches and fans, the ceremony was particularly powerful because the senior class of Devon Medina, Stephanie Wichman, Dee Dee Hernandez and Morgan Eng were part of CVHS' historic run to both the Pacific League and CIF Division 3 championships in 2019, in which they finished undefeated in League play, ranked just outside the top 100 nationally, and finished 21st in the state of California.
Izzy Jamgotchian will be the only player remaining from that historic run next year.
Fortunately, the 2019 campaign may not be the most recent championship for Falcons softball as this year's team is poised on the brink of yet another Pacific League championship and opportunity to compete for a state title. The Falcons are currently 9-1 in League play and in first place in the Pacific League with a pivotal head-to-head victory over rival Arcadia already in the books. However, the players still have five games remaining on the schedule, including a rematch on the road at Arcadia to close out the regular season on May 27 at 6 p.m.
As for Tuesday's showdown with Burroughs, a small hiccup with the scheduling of umpires caused the game to be postponed but it couldn't keep the players from celebrating their seniors on a very special night. With the postposed game against Burroughs scheduled for Wednesday, May 19, the Falcons will now play back-to-back-to-back games as the team travels to Pasadena on May 20 at 3:30 p.m. and host Chino Hills on May 21 at 3:15 p.m.