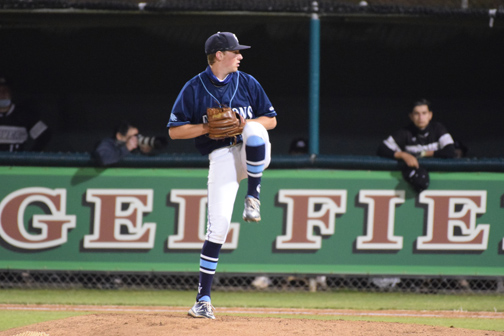 By Justin HAGER
The Crescenta Valley High School varsity baseball team jumped 158 spots in the MaxPreps California High School rankings after winning three straight games by 10-runs or more. The Falcons are now tied for first place in the Pacific League, ranked in the top one third of the state, and the top 25 in Division 1 of the highly competitive CIF Southern Section.
CVHS came out swinging in the Falcons' first game against Hoover High on Tuesday, April 13 scoring 17 runs in the first three innings. The third inning featured a rare feat with every person in the Falcons' lineup not only reaching base but also scoring. The final score was 18-0.
The charm of the third inning was repeated on Friday when the Falcons scored seven in the first three, and ended the game 11-0 after the fifth. The outstanding offensive production continued on Tuesday, April 20 with a 12-run first inning and a total of 20 runs scored in the game.
All three wins saw outstanding defense all around the field, consistent base hitting across the entire lineup, and particularly potent offensive performances from the top of the batting lineup. Almost every member of the CV roster crossed home plate during the three-game stretch, and nine of them drove in two or more RBIs.
The anchor of the Falcons' lineup, the team's first four batters – Rowan Respicio, Noah Maddox, Luca Cuneo, and Jameson Ferraro – each scored at least six runs in the three games combined. Ferraro's performance on Friday night was particularly noteworthy, batting 2-for-2 with two doubles, a walk, three runs scored, and three RBIs, including a two-RBI bullet in the bottom of the third.
On Tuesday against Muir, it was Maddox's turn to shine, driving in seven RBIs from a bases-loaded grand slam home run in the second and a bases-loaded triple in the fifth.
Other accomplishments from the past week include Matt Ruf, who had the rare distinction of earning an RBI by getting hit by a pitch; Evan Aceytuno, whose bases-loaded single against Hoover on Friday capped a six-run third inning; and Jaxon "Ziggy" Zigenfuss whose two-RBI double in the fourth inning sealed the Falcons' victory on Friday night.
The varsity baseball team continues its season on Friday at 7 p.m. against Muir, and then a special non-league rivalry game against a very tough La Cañada Spartans team on Saturday, April 24 at 6 p.m. at Stengel. The Spartans are currently ranked No. 56 in California and No. 21 in the CIF Southern Section.