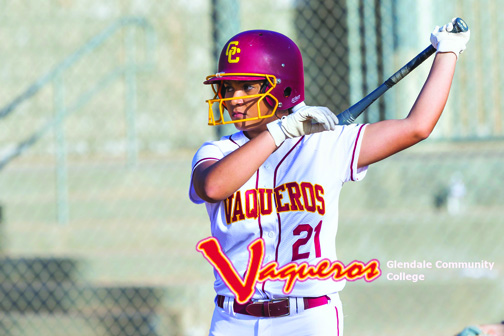 Photo by Sam Lee/GCC Athletics
By Michael LEVITSKY
Glendale Community College announced Friday that it will opt out of all sports competitions for the remainder of the school year citing health and safety concerns. Releasing a memo and posting to Instagram, associate dean of Athletics Chris Cicuto stated the Spring II season consisting of baseball, beach volleyball, golf, softball, tennis and track and field will not be competing this school year.
"It's unfortunate," said the third-year athletic director, who also served as head baseball coach for many years. "It's heartbreaking, it's truly heartbreaking, to announce that news."
California community colleges fall under different, perhaps more stringent, guidelines in comparison to the youth sports guidelines that are being followed by the CIF at the high school level. Junior colleges in the state are being held to the same standards as four-year institutions, which present a challenge for junior colleges not being able to host a bubble-type environment for athletes as seen at four-year schools.
COVID testing remains the most prevalent challenge that Glendale and other community colleges face. Mandatory COVID-19 tests must be taken by coaches, athletes and staff within 48-72 hours prior to any competition – something that is expensive.
In the case of high school sports, Gov. Gavin Newsom stated last week that the state would aid in funding COVID testing, but Glendale Community College would have to muster up that money on its own.
Assistant Dean Cicuto held two virtual town halls for athletes and students over the week to address questions or concerns and noted many questions and concerns had already been handled by some of the coaches who had provided information about the cancellation of competition with their own individual teams before the official announcement was made Friday.
"These Spring II athletes already lost half of their season last year, so I have complete empathy for them as far as losing another opportunity," Cicuto said.
Several other community colleges that compete against the Vaqueros in the Western State Conference are believed to be opting out of most Spring II season sports as well, according to another athletic department official.
Cicuto said the school can opt back in at any point, but is prioritizing meeting all the requirements to get athletes back on the field, practicing first before moving forward with competition.
The California Community College Athletic Association is providing its Limited Athletic Opportunity program that will allow the Vaqueros the chance to engage in two intrasquad scrimmages in all sports, except football, which will have 15 padded spring practices and three scrimmages, leaving the door open for at least some sort of competitive activity sometime down the line.
"Glendale College's first and foremost mission is to keep our students and employees safe," said Cicuto. "We are in the midst of trying to negotiate as well as plan out a safe return, whether that be in a couple weeks or a couple months; we are working out all those details that we have to go through."