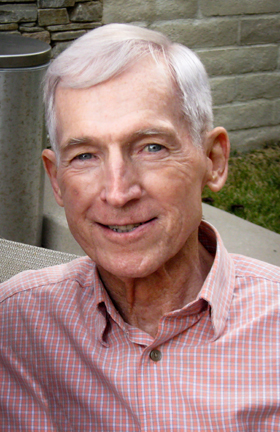 Hugh Norman Kilpatrick was born on Aug. 18, 1931 to Ralph Edward Kilpatrick and Helen Marie (Hannum) Kilpatrick. Hugh's father Ralph worked for Western Union, and thus Hugh moved more than 20 times before he graduated high school. This constant need to make new friends gave him the gift of being able to strike up a conversation with just about anyone.
Hugh went on to meet Margaret Ann Douglass and the two married in 1953. They had three children – Doug, Nancy and Ann.
Hugh was a loving and attentive father, rarely missing a back-to-school night, Scout meeting or volleyball tournament. He loved camping, swimming, hiking and skiing and took the family on many vacations. He was a patient tutor – especially in math – and was an endless source of wisdom and guidance for his kids.
Because Hugh had a brilliant mind, after achieving his master's degree in engineering from UCLA, he spent 40 years working in aerospace and radar technology. He then went on to work as a construction project manager, overseeing projects that included the Glendale College parking structure and the Disney Office Tower Building in Burbank.
Hugh was the family's go-to guy for answers – he knew more about everything than anyone, from changing sparkplugs and oil in a car to offering advice on raising children, making difficult life decisions, managing finances and everything in-between. He also played the banjo, accordion and piano.
He had an uncommon personality, encompassing both the precision of an engineer's mind with the compassion and humanity of a counselor or poet – making him a patient listener and wise advisor. Hugh's insights into the knowable world of science sat comfortably next to his spirituality and unshakable faith in his Lord and Savior, Jesus Christ.
One of the best things Hugh did was bring Marilyn Holmlund into the family, and the two wed in 1985. Their love story was one of partnership, selflessness, kindness, care and joy. Soon after their marriage, grandkids followed. And Grandpa Hugh and Grandma Marilyn were beloved by Chris, Jeff, Drew, Sarah, Danny and Greg.
Hugh Kilpatrick is more than names and dates. He was a man of great integrity and inner strength, never straying from his personal values and morals. He was a family man. A man of faith. A brilliant and curious mind. Someone who loved practical jokes, travel and "Star Trek." He's a figure whose life and love has rippled out into his family, his friends, his church and his community. Ripples which will be felt for a long time to come.
Hugh Kilpatrick was and is loved. And will be sorely missed.
He is survived by wife Marilyn; son Doug (wife Sue); daughter Nancy King (husband Tom); and grandchildren Christopher and Gregory Kilpatrick; Danny and Sarah Mock; Jeff and Andrew King.