By Mary O'KEEFE
The weather over the holidays is expected to be sunny, if a little windy; perfect weather to go outdoors for a hike.
It is important to remember that hiking, even a short hike, can turn dangerous quickly when hikers take a wrong turn or are not properly prepared. Five teens found how taking a wrong turn can turn a normal day of hiking into a rescue that included an unexpected helicopter ride.
On Saturday, Glendale Fire Dept. responded to a call from a hiker who reported hearing cries for help in the Cemetery Trail area in Brand Park.
"Apparently the five hikers were stuck on the side of the hill," said Capt. Trevor Welch of the GFD.
Welch said the hikers, ages 16 to 19, had hiked the area many times in the past without having any issues.
"They went up Cemetery Trail about a mile when they decided to go up the side of a hill," Welch said.
The five found what they thought was a new trail and decided to hike it. But the new trail actually turned out to be a wash. They followed it up a very steep hill for a short way when they realized they could not go up any further and were now stuck.
Glendale police arrived and officers walked up the trail while a Pasadena Police Dept. helicopter arrived to aid in the search.
"It was getting dark and the [hikers] used their [lights] from cellphones to signal their location," Welch said.
Air Squad 19 from the Los Angeles County Fire Dept. airlifted the hikers to a field near Brand Park. There were no injuries reported.
Welch pointed out that though the hikers knew the area well they did not know the new trail they chose to take. If they had continued to follow the wash they would have found it ended without a safe path out of the area. It was a steep climb and there possibly could have been injuries if they continued, he added.
It took about 40 minutes to locate the hikers, who were in dense brush, which is often the case when hikers are lost.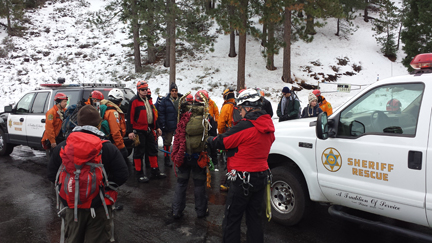 "It was like finding a needle in a hay stack," Welch said.
He advises anyone who is planning a hiking trip to make certain they tell people where they are going and when they plan to return, and to take water and snacks even if they are planning to be out for only 30 minutes. Bringing a cellphone is a good idea but there are many areas that have no cell service.
The five hikers on Saturday all had cellphones; however, only one had service. The one who was able to call out had a battery that died shortly after making a call.
"A short hike is still a hike," Welch said. "[You] need to be prepared."
Mike Leum, search and rescue group leader with the Los Angeles County Sheriff's Dept. and a member of the Montrose Search and Rescue team, knows well how a simple hike can turn dangerous. Over the years he has responded to hundreds of missing hiker calls. Some were novices who thought a hike would be a fun day trip while others were experienced hikers who got caught in a situation they had not planned for.
Leum advises those who plan on a hike, whether a long or short one, to be prepared and let someone know where they are hiking. LASD has a hiking plan that can be filled out and left with family or friends for a "just in case" scenario.
MSR recently had a day of training in the snow near Mt. Waterman at the 6,000-foot level. The team trains because many times emergency call-outs are for lost or injured hikers or over-the-side vehicles lost in the snow.
"People see that there is snow and [think] 'Let's go play.' They drive up [the Angeles Crest] in their two-wheel-drive vehicles with no chains and [sometimes] bald tires. That's when we get cars over the side," Leum said.
During the latest rainstorm MSR was part of the response team to several vehicle accidents.
"[A lot of] solo vehicle spin-outs [happen] in the rain," he said. "And after the Station Fire, it doesn't take much for dirt to [wash onto and] cover the road. Then throw ice into [the conditions]."
Though since the winter solstice – Dec. 21 – the days are slowly getting longer, it still begins to get dark around 5 p.m. in the city. But in the mountains it gets dark even earlier. Sometimes those hiking do not realize how quickly and how dark it gets on the mountain trails.
"And there is still poodle-dog bush," Leum added. Poodle-dog bush is a plant that often grows after a major fire. It looks like a pretty purple flower but looks can be deceiving. Once touched or brushed up against, the plant has a more severe effect on a person than poison oak.
"During this time of year [many people are having] family visiting from out of town," Leum said. Visitors who may have once lived in the area may want to go for a hike. Or the local family member, who has not hiked in the area for a while, may want to take their guests up to the trails.
"They may remember going on hikes [years ago]," he said.
But trails change over the years, especially in areas like the Angeles National Forest after the Station Fire and subsequent flooding, he added.
The best advice offered by both Welch and Leum is to "have a plan and follow that plan."
Visit www.cvweekly.com and click on this story to download a PDF file of the LASD hiking plan or visit http://file.lacounty.gov/lasd/cms1_163961.pdf.