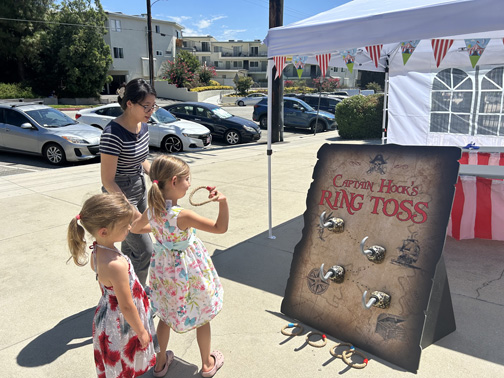 By Mikaela STONE
La Crescenta Presbyterian Church is preparing to welcome the community to its inaugural Fall Carnival. Church members are also heralding the season of autumn as they welcome a new pastor – Mouris Yousif – who comes from New Jersey. A team of volunteers from within the church are hoping to reintroduce the church to the community in a fun and memorable way. Planning committee member and volunteer Allie Fernandez said she is excited "to serve [the community] and bless them and provide fun for all ages."
Attendance to the carnival, being held on Sept. 23, is free; in fact, everything at the carnival (except for food, which there will be plenty of) is free. Food offerings are varied and include a food truck from In-N-Out, cotton candy, baked goods and snow cones. The festival will keep those present well-fed. For children to enjoy, there will be a bounce house as well as craft stations with sand art and temporary tattoos and more. Grandparents and parents are encouraged to bring their little ones and teens alike – they too will enjoy the carnival game booths and win tickets – or even a cake at the festival cake walk.
The carnival will also provide a menu of musical acts spanning multiple genres. Highlights include a barbershop quartet made up of men from the church; Monday at Jojo's, a woman's group that sings uplifting ballads; a music teacher from LCPC's Center for Children who comes weekly to the center for Music with Max, helping children grow and develop through music and movement; and the Scottish Fiddlers of Los Angeles, the oldest Strathspey and Reel Society in the United States. Strathspey and Reel Societies comprise groups of Scotsmen and Scottish music enthusiasts, amateur and professional alike, who work to ensure that Scottish musical traditions continue between generations.
In between acts the music will continue under the hand of DJ Ryot, otherwise known as Clark High School Liam Chatham, whose beats can be found on the music streaming service SoundCloud. The performances and games will be happening rain or shine.
Fernandez and the rest of the volunteers are eager to welcome the community to the Fall Carnival at the parking lot of La Crescenta Presbyterian Church, 2902 Montrose Ave. on Sept. 23 from 11 a.m. to 3 p.m.