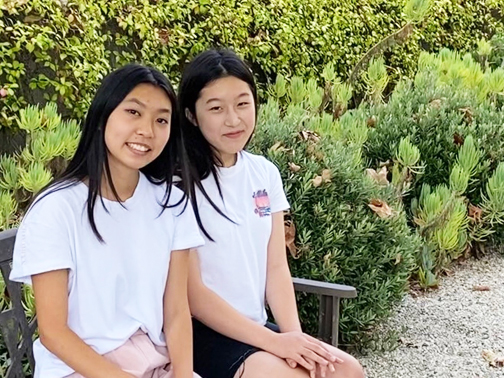 By Bethany BROWN
Rachel Lee, a senior at Village Christian School, and Chloe Chong, a junior at Flintridge Preparatory School, first bonded over their shared experiences of growing up with a disabled sibling. They discussed how the siblings of those with disabilities can often feel isolated, that they can't express their own feelings outwardly, may be forced to mature quicker and overall have a different idea of family and home, among other things. They wished there were a community of other teens living similar lives to connect with and garner support. After realizing there wasn't one already, together they decided to build their own.
Hearts for Siblings – a community for people who have siblings with disabilities – is celebrating its official launch at the Crescenta-Cañada Family YMCA on Saturday, Aug. 6. The event is free to attend, open to all middle and high school students and will take place from 1 p.m. to 3 p.m. in the multi-purpose room on-site. Their mission is to create a safe environment to empower siblings and encourage deep conversation.
Lee said that they want to get the group "up and running" before the end of the summer so that a solid foundation is set before school starts back again. The goal is to work around school hours to arrange routine meetings that can continue throughout the fall semester, ideally every two months. The initial "launch" will serve as an opportunity to introduce the group and its mission to the community and present members. Snacks will be provided and ice breakers/games will be played as participants ease into topic discussion.
"There are three things that we pledge to do with Hearts for Siblings," Lee said. "The first is to create an online forum so even if we can't meet in person we can still communicate with each other whenever we want to and have easy access to one another in times of need." She added that additionally they will host social events whenever they can to foster in-person connection and, lastly, will work with and for the community through various volunteer opportunities to "give back" in acts of service.
"At the end of the day, we just want to form a strong community that's there for each other and will continue to be there," she said. "We hope people will come and share their own experiences and find comfort in listening to others."
To RSVP for the upcoming event email heartsforsiblings@gmail.com.