By Brian CHERNICK
Glendale celebrated the long-awaited grand reopening of downtown's Central Library on May 1 with a day of festivities after nearly two years of construction. Attendees were treated to tours of the library and programs showcasing the new and improved facilities and spaces built for community members to learn, create and reflect. The $15-million renovation project ushers in an enhanced auditorium for performance arts, new conference rooms for school, business and social meeting and an improved computer lab. The two most significant additions to the library are the ReflectSpace – an exhibition and community room that offers opportunities to learn about the past and present of Glendale's communal fabric – and the MakerSpace which is equipped with 3D printers, an audio recording studio and tools for crafting, sewing and painting.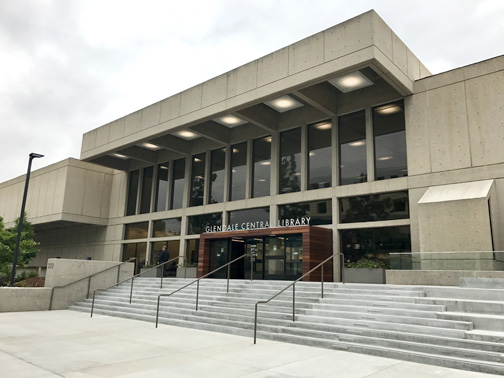 "If you have a specific design in mind you can come in and make it," said Kevin Sarian, Library Arts and Culture senior supervisor of the 3D printers and other tools for the public.
ReflectSpace's inaugural exhibit, *Landscape of Memory: Witnesses and Remnants of Genocide* examines the Armenian Genocide through personal and reflective narratives and artwork from survivors and descendants. The opening reception for the exhibit will take place on May 19 at 6 p.m. and will run through June 25.
Councilmember Paula Devine, who served as mayor of Glendale throughout the library renovation, described the new facility as one of the most dynamic of its kind.
"It has been such a joy, as mayor, to watch this project unfold," Devine said to project architect Debra Gerod. "You have given this community an incredible, reimagined landmark."
The event included speeches by the president of the Glendale Library Foundation Joylene Wagner and the city's director of library, arts and culture who thanked residents for their patience.
The planning and construction aimed to preserve the historic architecture. The modest exterior modification and retaining of the elevator clock inside allowed the library to remain eligible for the National Register of Historic Places.
The library is open seven days a week with reopening events and programs planned throughout the year. Visitors are encouraged to check online or inside the library for hours and upcoming events.