By Mary O'KEEFE
Los Angeles County Sheriff's Dept. detectives are concentrating on finding Aramazd Andressian Jr., a 5-year-old boy who was reported missing by his mother on April 21. At about this same time his father, who had custody of his son at the time, was found unconscious in Arroyo Park in South Pasadena without the boy.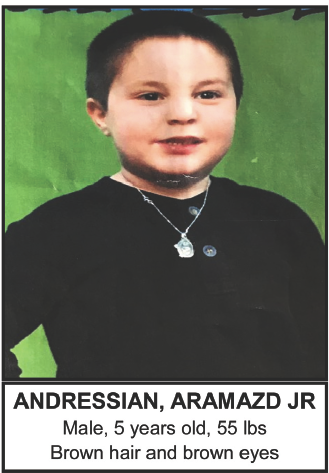 The boy's parents are divorcing and had shared custody. His mother brought him to the Baldwin Park Police Dept. on April 15 to turn over custody of her son to her estranged husband, according to LASD. The last time the boy's mother saw him was on April 18 via a video call. He was last seen with his father at Disneyland on April 20, according to reports.
"Our focus is on finding the missing child," said Det. Joe Mendoza, LASD.
On Saturday, Montrose Search and Rescue were one of several teams that searched the area of Arroyo Park.
"The area we were [searching] was in South Pasadena near the Arroyo wash by the Rose Bowl," said MSR member Janet Henderson.
Henderson said houses as well as a baseball field surround the area as do trails. There was an area with little water ponds that Henderson said she was told was searched.
"It was warm," she said of the night weather. "We didn't see any evidence of anything."
The boy was not found at the Arroyo Park.
More searches have covered Los Angeles and Santa Barbara counties including the Lake Cachuma area where an investigation placed the father on April 21; however, his son was not with him, according to reports.
Detectives are seeking the public's help in locating the young boy who is described as 5-years-old, weighing 55 pounds with brown hair and brown eyes. The child was last seen wearing a gray/white striped shirt, gray sweatpants and tan shoes or a teal shirt and plaid shorts.
Aramazd Andressian Sr. was driving a 2004 gray four-door BMW with California license plate 5FIL646. The father is described as 34-years-old, weighing 152 pounds with brown hair and blue eyes. The father was in police custody but has since been released.
Anyone with questions or information is asked to contact LASD Homicide Bureau, attention Det. L. Aguilera or Det. M. Boisvert, at (323) 890-5500. Or contact CRIME STOPPERS online at http://lacrimesstoppers.org or phone (800) 222-8477 or from a Smartphone download "P# Tips" for free.