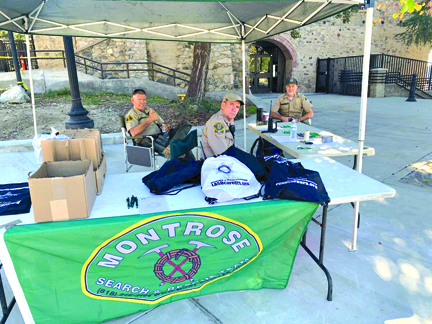 The Montrose Search and Rescue team is searching for those dedicated to helping others.
By Robin GOLDSWORTHY
Folks who desire helping those in distress whether being lost in the forest, in a precarious spot while hiking, caught in dangerous weather or in need of some other type of outdoor assistance are invited to take part in the Montrose Search and Rescue team tryouts. Tryouts take place this Sunday, March 26 at Deukmejian Wilderness Park, 3429 Markridge Road in La Crescenta/Glendale. Check-in is at 7:30 a.m., 8 a.m. start time. The tryout takes place rain or shine.
This is the second year of the tryouts and according to team member Mike Leum the first year was "hugely successful."
"Many are in process for team membership resulting from last year's tryouts," Leum said.
Leum was key in organizing the tryout event saying that it is a good way to reach the team's "target audience."
"We're looking for people who are self-motivated, outdoorsy and physically fit," he said.
Becoming a team member is a long process and Leum said that the tryout is a good way to quickly assess those who can and should move forward in that process.
Sunday's tryout is a timed one-way, two-mile hike. Applicants will be timed from when they leave the staging area to when they arrive at the rock circle where a team member will be waiting to greet them. The team member will be radioed when the applicant leaves the staging area so an accurate time can be recorded.
In addition to completing the timed hike, there are several other steps needed to complete membership. Leum details these to applicants who RSVP to Sunday's tryout (info@lacosar.org). For example, applicants must live within 30 minutes of Crescenta Valley Sheriff's Station; be at least 20.5 years old; pass an oral interview with the team; obtain an EMT license at some point during the application process; apply to become a reserve deputy sheriff with the department; and pass the team's mountaineering and rescue training program.
Leum said that the process to become a full team member is lengthy and can take, on average, three to four years. This is due, in part, to the need for applicants to be an emergency medical technician and many have to be trained first. (Training is attainable at the local community college.) Also, all applicants have to apply to be a deputy and complete the reserve academy.
Montrose Search and Rescue features two types of members: reserve deputies and civilian volunteer specialists. Both are active in rescues though civilian volunteer specialists generally have skills that extend beyond typical members. For example, they might be highly trained in technical issues that benefit the team.
Sunday's tryout is one of two planned this year. Applicants to either tryout will have to complete the timed hike at Deukmejian Wilderness Park. They will be notified via email whether or not they can move forward in the process; however, Leum stressed the importance of support of family members.
"We train in swift water rescues, snow and ice rescues, rope rescues, rappelling, helicopters and more," he said. "It's imperative that family members support the commitment of the applicants."
Though there is a far-reaching commitment of time from applicants, Leum said that most team members are dedicated to the team for about 20 years – and all are well trained in a variety of scenarios, an important distinction.
"After all," he said, "train like your life depends on it because someday mine might depend on you."