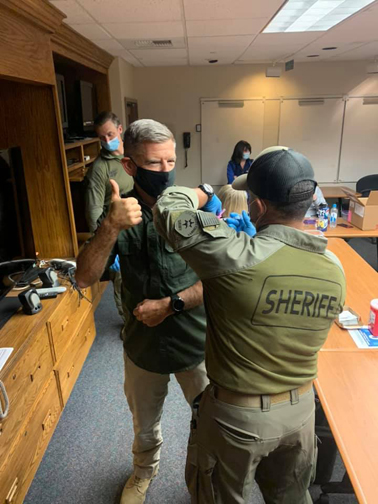 By Mary O'KEEFE
Members of Los Angeles County Sheriff's Dept.-Montrose Search and Rescue at Crescenta Valley Station received the COVID-19 vaccine this week. Team members respond to medical emergencies and are front line responders. They are volunteers with the LASD and come from all walks of life.
Once again, MSR responded to a record number of callouts in 2020 of 162. This broke 2019's record-breaking year of 147 responses.
"There has been a steady increase," said Sgt. John Gilbert, LASD-Crescenta Valley Station.
The majority of the calls were a combination of over-the-side vehicles and hikers who were lost or in distress. When members respond to the calls they never know what they will find and although they observe all COVID-19 safety precautions there are still situations when members must get close to those they are helping. The risks are real.
"Members of Montrose Search and Rescue are tremendous individuals, the best among us. They volunteer their time and effort, and their own money. They drive [Angeles National Forest] every weekend," Gilbert said. "They do have the dangers in their job [including] mountaineering and over-the-side [traffic accidents], then add in the pandemic – it becomes more dangerous."
This year MSR member Doug Cramoline responded to the most calls at 132, followed by Will Richards at 120 and Robert Sheedy at 113 calls.
"We had new members who responded to 80 and 90 calls," Gilbert added. "But to have three team members who responded to over 100 calls – that's amazing."
COVID-19 may have played a part in this year's increase in callouts because many who were rescued either with vehicles over the side of the Angeles Crest Highway and lost hikers told their rescuers it was their first visit to the forest.
Gilbert advised those visiting the forest to prepare for the terrain and the weather.
"During the pandemic some people are looking to find something to do [including] driving in the mountains or hiking," he said. "[Often they are] unprepared for conditions, most often the heat."
Hikers may come to the area without enough water, and some do not realize there is no cellphone service in most of the forest and the trails can be confusing.
Gilbert added the team responded to many fatal vehicle over-the-side calls.
"Those are always the difficult [callouts] when you know that a family will not have a loved one coming [home]," he said.