By Lori BODNAR, intern
Spooky stories, fun games, costume contests, Halloween cake-decorating contests and more – sounds like a Spooktacular Halloween Carnival! National Blue Ribbon 2020 awardee Mountain Avenue Elementary School held a virtual Halloween carnival on Monday that included all these fun traditional Halloween carnival events.
The Halloween spooky story time was led by Principal Jaclyn Scott with separate times and Zoom links for TK-third primary grades and for fourth through sixth upper grade classes. For the primary grades, Principal Scott read the book "Creepy Carrots" by Aaron Reynolds; for the upper grade story reading, Principal Scott read the story "The Widow's Broom" by Chris Van Allsburg.
When the students weren't listening to an eerie Halloween story, they were playing fun Halloween games. Participants signed up for different times for either the story reading or Halloween activities based on their age group, and then received the Zoom links to participate. Around 60 students and their families attended the virtual Halloween carnival, so there were around 30 in each age group.
PTA parent organizers Rachel Gagliardi, Dina Gharehbagloo and Kelly Cicuto led the students in the fun activities, such as word guessing games to decipher Halloween words or phrases. Some of the phrases from the game were a bit tricky, such as "candy corn" or "haunted house." PTA President Kathy Necus also helped with the engaging Halloween activities. The organizers played upbeat Halloween music and everyone danced wearing their costumes. Some of the bewitching costumes included a dinosaur.
After the story readings and Halloween activities ended, everyone joined Zoom at the end of the night for what they had all been waiting for: the announcement of the winners of the pumpkin-decorating and cake-decorating contests!
For two weeks prior to the carnival, all students could submit a photo of themselves with a pumpkin or a cake that they had decorated. The rules for the pumpkin decorating entries were simple: no carving allowed!
Students submitted photos or videos of their creations via the school application Padlet (detailed in the CV Weekly Oct. 22 issue). Normally, the decorated cakes are used for a cakewalk during the Halloween carnival at the school, but this year, because of the pandemic, everyone was able to keep and eat their own yummy masterpiece cakes.
The pumpkin contest winners were fifth grader Sammy Lee with a Pooh and Friends pumpkin, fifth grader John Chun with a Harry Potter head pumpkin, third grader Aria Gharehbagloo with a "Nightmare Before Christmas" pumpkin, and first-grade twins Mila and Finley Grigori with their artistic colorful pumpkins. The judging was difficult since there were over 20 creative entries.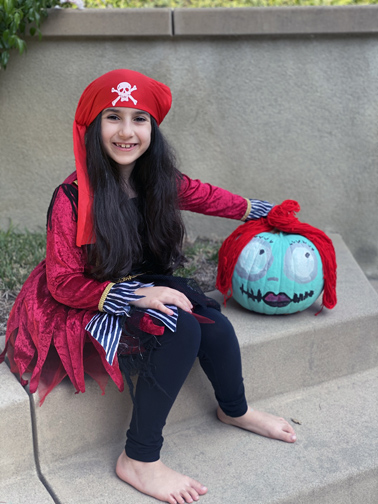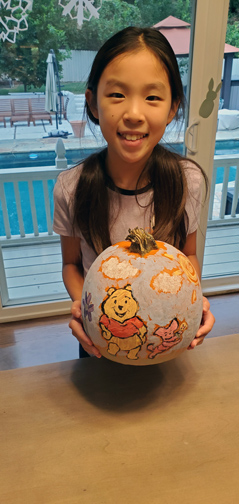 Judging the Halloween cake-decorating contest was even more challenging as nearly 30 beautifully and creepy decorated cakes were submitted. One of the top winners of the cake-decorating contest was first grade student Colin Wesser, who artfully made a Dodger mummy cake out of blue cake and white chocolate-covered Rice Krispy treats cut into the shape of the logo for the LA Dodgers. In Colin's video, he gave a big cheer of "Go, Dodgers!" After Tuesday night's World Series win, and him winning the cake-decorating contest, no doubt Colin had much to celebrate.
Another winner of the cake-decorating contest was Hannah Bursch who made a pumpkin spice cake that looked exactly like a real pumpkin! Fifth grader Paolo Primo made a fun coffin surprise cake that had a mummy inside. Another "creeptacular" cake was made by Cedar Gardner, a first grader who made a rectangular cake and then decorated it with green icing, marshmallows, chocolate chips, chocolate chunks, and Twix to create a frightening Frankenstein face.
Cedar Gardner with her Frankenstein cake.
The virtual Halloween carnival at Mountain Avenue Elementary School was a fun and safe way for students and their families to connect. Students enjoyed being able to celebrate together, albeit virtually, and join in traditional Halloween activities such as costume contests and dancing, cake and pumpkin decorating, Halloween games, and spooky story readings.
Tomorrow, Friday, Oct. 30 all Mountain Avenue students can participate in a drive-through Halloween costume parade at grade-level staggered times when they stop by the school to pick up additional school supplies, including art supplies, from their costumed teachers at the school. Students can decorate their cars and wear a costume if they want to during the Halloween parade, but they must also wear a mask or facial covering and stay in their car for the drive-through school supplies pick-up.