By Charly SHELTON
After 2020 took so much from us all, we looked forward to the pandemic ending in 2021 and resuming a more regular life. What we got was a mixed bag of partial reopenings, variant virus spread and continued restrictions as we discovered the "new normal" for life. But in the mire of masks and variants and disappointing returns were a slew of new offerings, tearful reunions and many, many firsts for all of us navigating this new world.
Let's take a look back at some of the best ofs, month-by-month, throughout 2021.
January
Stranger Things COVID Safety Precaution Brings Themed Entertainment Back
With theme parks closed and live events largely canceled due to the COVID-19 pandemic, themed entertainment was pretty much non-existent. Into this desolate market came the "Stranger Things: Drive-Into Experience" – a live theatre event viewed from the comfort of a car, based on the popular Netflix program, with no interaction between the audience and performers. It received rave reviews from the media and through word of mouth from those who had ventured into the Upside Down. But in the world of COVID, even an event such as this can be met with trepidation when weighing the positives of the fun event with the negatives of the inherent risk of going outside the home during a pandemic.
Digitizing Field Records at The La Brea Tar Pits
Excavation at the La Brea Tar Pits, which began in 1969 and ran every summer up to the pandemic, has collected a massive number of specimens. Thousands upon thousands of individual specimens, from huge skulls and saber teeth to tiny mouse feet bones and dermal ossicles (skin bones from ground sloths), have been recovered and noted in field records, many from the last 40 years written on index cards or notebook paper. As such, these were not searchable or able to be incorporated into larger data studies like modern records. This is why the Page Museum opened the collection to the public to invite members of the public to help transcribe these field records and bring the last 40 years of scientific research into the 21st century.
February
Drive-Ins Return to a New Audience
Drive-in theaters were making a comeback in a big way. In-person inside movie theaters had been shut down for the last year and it was hard to find somewhere to see a movie with friends where guests could really feel safe. One local musician brought the outdoor silver screen back to the Crescenta Valley in a big way by establishing his own drive-in theater in La Cañada. Empire Lakes Productions was founded by Arsen Tujian and Luke Bonham, both college students who started the business while spending the pandemic at home in La Cañada as college classes went virtual.
March
CV Weekly's Own Lori Bodnar Releases "Deep Thoughts"
Bodnar has covered a variety of stories for the Crescenta Valley Weekly and with every article has honed her professional talent. What many of our readers may not know is that she recently graduated from Crescenta Valley High School and, in addition to being a journalist, is also a poet. In March, she released her first book of poetry titled "Deep Thoughts."
Knott's Taste of Boysenberry Fest on the Eve of Reopening
With a full reopening in sight as early as April, the time for the Boysenberry Festival rolled around again. Knott's Berry Farm, now old pros at the "pandemic food festival" format after their several successful festivals in 2020, brought a strong showing with the best food festival yet, a festival even better than the ones when the park was open.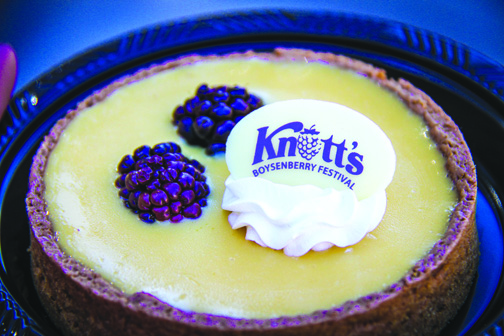 April
The Return of the Theme Parks
It had been over a year since anyone had been on a ride at a theme park. The COVID-19 shutdown really hit home for many SoCal residents when Disneyland, Universal Studios Hollywood, Knott's Berry Farm, SeaWorld, LEGOland and Six Flags Magic Mountain closed in March 2020 due to the virus. Perhaps the shutdown affected Disneyland the most; it's a cultural icon that helped set the standard for everything else. But after a year without much public fun, the theme parks reopened. Crowds swarmed as the new "theme park reservation systems" for visiting many of the theme parks were overwhelmed and booked up into the early summer.
May
An Emotional Homecoming to Disneyland
After 440 days, 13 hours and 10 minutes, CV Weekly's Charly Shelton finally came back to Disneyland. In a personal perspective article, Shelton detailed the emotional resonance of coming back after so much time had passed to a place that he considered a second home. And now with a new member of the family in tow, his 10-month-old son Don, he saw the park through new eyes.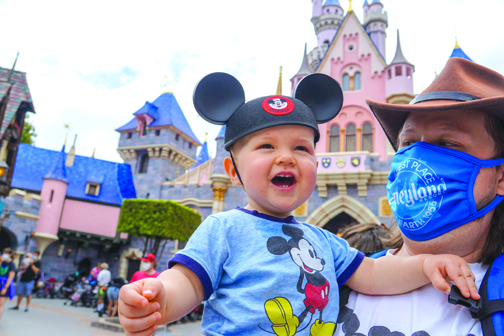 June
Knott's Berry Farm Celebrates Its Overdue 100th Anniversary
Knott's Berry Farm was founded in 1920, making 2020 its 100th anniversary. While the theme park remained largely closed except for the food festivals, 2020 was not a year conducive to holding a celebration of such a momentous milestone. But when the theme parks reopened, rides and all, it was time to celebrate in a big way. "The Knott's Family Reunion," as the 100th anniversary celebration was subtitled, looked to reunite family and friends in a safe and fun environment. Guests who visited Knott's Berry Farm from May 21 through Sept. 6 enjoyed special photo ops, unique food offerings, event merchandise and more, all tailored to showcase the history of Knott's over the last century. In honor of Knott's Berry Farm's 100th anniversary grand celebration, the park hosted a memorable time capsule ceremony on Wednesday, June 30 to commemorate the past and present memories created throughout the last 100 years.
July
Warner Bros. Studio Tour Reopens with Upgrades
Some attractions, like the Warner Bros. Studio Tour, made use of the pandemic downtime to construct new offerings and streamline things, making use of the guest-free days to do all the headache work of building without losing revenue-generating days to do it. A brand new tour complex, complete with massive Warner Bros. gift shop, debuted with the reopening of the tour.
'Secret Life of Pets: Off the Leash' Opens at Universal Studios Hollywood
When the local theme parks reopened to guests, we finally got to experience the best new rides that were to be offered in summer 2020. "Secret Life of Pets: Off the Leash" invited guests, who the other animals saw as puppies, to board alleyway boxes and shuttle across town to get to the adoption fair to find families to love them. It's a pretty standard dark ride (think Mr. Toad's Wild Ride or Peter Pan's Flight) but with several new tech additions.
August
'Knott's Bear-y Tales: Return to the Fair' Opens at Knott's Berry Farm
Knott's also opened its "meant for summer 2020, technologically advanced dark ride with a colon in the name" as well – "Knott's Bear-y Tales: Return to the Fair" took guests on a fun trip down memory lane heading to the county fair to sell some boysenberry pies while flinging pies at foxes that want to steal the goodies along the way.
Van Gogh's Finest JPGs Are Emailed to Hollywood
In likely the biggest disappointment of 2021, the Immersive Van Gogh Experience finally came to LA. One would imagine that waiting for the arrival of a traveling exhibit of Van Gogh's paintings would afford viewers a chance to see an original painting that has … traveled with an exhibit. But what viewers experienced instead is a massive floor-to-ceiling projection of a number of his works made animated. The irises bloom, the sunflowers wave in the breeze and the starry night flows from the Seine into the sky. It really is an impressive sight knowing the amount of work it must have taken a graphic designer to isolate all these elements and set them to a motion graphic. Talk about one of the great master artists of our time!
September

Halloween Horror Nights Rises from the Dead
Last year there wasn't a Halloween. The world was actually scary enough and it didn't allow for the fake, fun scary that is found in the annual theme park haunt events. But this year's haunts rose from the grave – with a vengeance. Universal Studios Hollywood opened its Halloween Horror Nights event and, although expectations were high going in, they were surpassed by the quality found at this year's outing.
October
'Carved' Out a Good Time for Halloween at Descanso Gardens
A new haunt came to town for "spooktacular" fall fun this year. "Carved" was a family-friendly event that included intricately carved pumpkins, autumn decorations and brilliant lights nestled within the beauty of nature outdoors at Descanso Gardens. Hundreds of carved pumpkins lined a one-mile easy walking loop through the Camellia Forest and Oak Grove. Notable pumpkin designs included Charlie Brown and the Great Pumpkin, Shrek, Harry Potter and Voldemort and Lord of the Rings, among others.
November
Family Fun Found at Lanterman House Free Day
The Lanterman Historical Museum Foundation celebrated the native landscape of the Crescenta Cañada Valley with a free outside event at the Lanterman House. The event was highlighted by a land acknowledgment ceremony, which recognized the Gabrielino Tongva people as the traditional stewards of the Crescenta Cañada Valley and affirmed their enduring relationship with the land. Activities at the event included a Native American flute performance, food samples made from native plants and a craft table where visitors could make ornaments out of locally grown white sage.
December
Violins of Hope Played in an Emotional Performance
The Los Angeles Jewish Symphony played the Violins of Hope at The Soraya in Northridge after the concert was postponed for nearly two years due to the COVID-19 pandemic. The private collection of string instruments remained in safekeeping as it awaited its return to the stage and includes more than 50 rescued and restored violins, violas and cellos that were played by Jewish musicians during the Holocaust.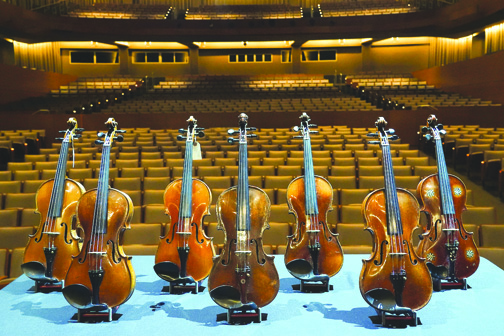 Enchanted: Forest of Light Returns to Descanso Gardens
After not holding the event in 2020 due to the pandemic shutdown, the Descanso Gardens' Enchanted Forest of Light returned for its fifth year. This was a rare opportunity for families and friends to explore the gardens when they are illuminated by brilliant lights and enhanced with art installations. The one-mile walking experience is currently available through Jan. 9, 2022.