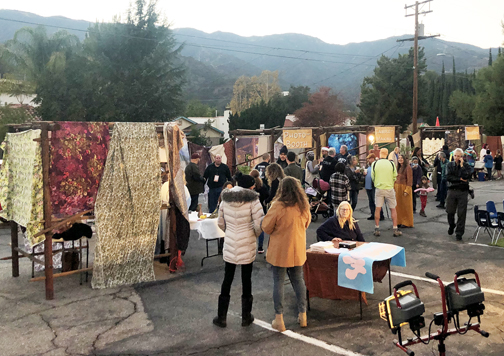 By Lori BODNAR
CV Church hosted its annual Explore Bethlehem event at its La Crescenta campus on Dec. 12. Guests to the event enjoyed featured foods such as pomegranate, pita bread, hummus, a dip of tzatziki (Greek yogurt and cucumber), dates, tabbouleh (parsley, tomatoes, and quinoa), pickled beets and warm apple cider. Activity booths were set up around the church grounds giving visitors the chance to either view or take part in making pottery, perfume, homemade candles, leatherwork and sand art, and crafts including creating crowns and suncatchers. The activity booths were decorated to replicate various stalls in Bethlehem. On-site were also storytelling, singing, photo booth, mini-train ride and petting zoo.
Beth Krausse is the Children's Ministry leader. She helped organize Explore Bethlehem.
"The event took about four months to prepare and the set-up took about three hours," Krausse said. "We began setting up the booths after church service and finished by 4 p.m. Explore Bethlehem gives us an opportunity to be together in a wholesome, safe and loving environment. We enjoy doing this because we love our community and we want them to feel cared for and loved."
Heather Bondy volunteered at Explore Bethlehem.
"Explore Bethlehem spreads the story of Christmas and the hope of Jesus Christ," said Bondy. "The event gives people a chance to explore what people did in Bethlehem around the time Jesus was born."
CV Church has held the Explore Bethlehem experience for many years. Last year, during the pandemic, a drive-through Explore Bethlehem was created in which people drove through the parking lot, played games out the car windows, and were given crafts. This year, CV Church held an in-person celebration outdoors with different activity booths and the popular "Bethlehem Express" mini-train and petting zoo.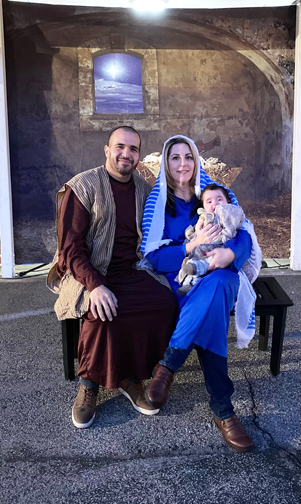 "I think the experience is great because it gets the community together and it teaches our young ones about Bethlehem," said attendee Jamison Plummer. "We enjoy the camaraderie of the event. This is my first time attending; our family's friends invited us."
Cynthia Park was another guest.
"I think it is cool to see how life was like when Jesus was born," she said. "This is my first time at the event."
Breanne Henry said, "I like that there is so many booths for the kids. The activities and the food are very authentic. It is my second time going to the event and my daughter Xaler's third time attending." The authentic food was in part due to a generous donation by local restaurant Seasoning Alley.
Fifth-grader Suzie Bodnar has attended Explore Bethlehem since she was a toddler.
"I liked making pottery and making perfume out of roses. I also enjoyed coloring the ornaments and the dreidel. I loved the train and the petting zoo. The hot apple cider was really yummy, especially with whipped cream on top!" said Suzie.
The Explore Bethlehem event concluded with a reenactment of the Nativity then everyone sang holiday songs.
CV Church is next planning its Christmas Eve services at 1 p.m. and 3 p.m. led by Pastor Scott Wood.