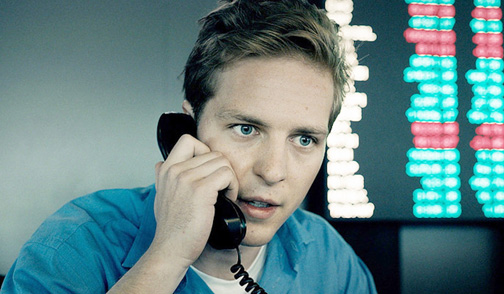 By Bethany BROWN
French director Emmanuel Tenenbaum's live-action short film "Free Fall" screened at the COLCOA French Film Festival in Hollywood last week (Nov. 1 to Nov. 7). The festival, ranked among the top three film festivals in Los Angeles, is an annual highly competitive event committed to showcasing the vitality and diversity of French cinema, television and shorts.
Tenenbaum formerly worked as a biomedical engineer, studying film as a hobby during his schooling. He initially made a parody film about the company he worked for that went viral and, in response, was met with various opportunities in the industry. Since then, he has worked with Quebec screenwriter Guillaume Fournier for several years, receiving numerous awards and nominations. "Free Fall" is their third short film and their last creation before their first feature film.
The short, inspired by true events as detailed in Joris Luyendijk's 2015 book "Swimming with Sharks," follows a young trader in a London bank whose recent performance has put his job on the line. When the first plane hits the World Trade Center on the morning of Sept. 11, 2001, the young protagonist, convinced that it's a terrorist attack and not an accident, jumps into the biggest trade of his life.
Tenenbaum said there were only a couple of lines in the entire book that specifically mentioned the loss of many London banker colleagues in the 9/11 tragedy but that it immediately sparked an idea.
"When I saw those lines, I knew that was it; that was the story," Tenenbaum said. "You just become obsessed with it and in a few days, if you're still obsessed with it, you know [the story] needs to be told."
He and Fournier vigorously researched the global impact 9/11 had on the market and found that markets dropped dramatically soon after the second plane hit.
"Our films focus on money and greed," Tenenbaum said. "The impact of money on our poor brains as humans – we can go completely crazy and destroy everything to get money. You know, there's a part of you that roots for the character and a part of you that's disgusted by what he's doing, and this is the confusion that we as humans have within us."
Tenenbaum said he hopes that people who watch the film will walk away with an understanding of how the financial world works and how it impacts our lives but, more importantly, learn a little bit more about themselves and gain an understanding of the conflict of the psyche revolving around greed. He urges the audience to consider their successes among the cost and sacrifices it often requires.
The short film has screened at 25 international film festivals thus far, including Flicker's Rhode Island, Show Me Shorts Film Festival, Bengaluru International Short Film Festival and has been widely celebrated. It has won multiple awards, most notably the 2021 Oscar Qualifying Award at Regard – Saguenay International Film Festival.
Being presented with an award that made the film eligible to win an Oscar took Tenenbaum by surprise.
"When you finish a film, you're full of doubt," Tenenbaum said. "There are thousands of short films made every year – thousands – and I was so much not expecting it that I wasn't even watching the ceremony when we won it. I got a notification that we won, and I was shocked."
The film is expected to screen at ALCINE 50 – Festival de Cine de Alcalá de Henares from Nov. 5 to Nov. 12 and lastly at the Lake County Film Festival from Nov. 4 to Nov. 15. The Oscars will be held on March 27, 2022 at the Dolby Theater in Los Angeles. Voting in all categories will begin in late December.