By Steve ZALL and Sid FISH
October 2023
COVID protocols continue to be dictated by each individual venue, so bring a facemask to wear during the show in case the venue requires it. It's a good idea to check with the theater before attending a show to find out what is their current policy.
The information presented in this column is the latest available at the time of printing; however, it should be verified with the theater before making definite plans.
Here are the shows that have announced opening dates for this month or are already running:
Opening
"The Engagement Party" The champagne is on ice, the hors d'oeuvres are perfectly arranged and the table is exquisitely set. But not all goes to plan. At a swank Park Avenue apartment, a young couple is celebrating their engagement with an intimate gathering of family and friends. When a glass of wine is spilled the night takes an unexpected turn, unleashing a spiraling sequence of events and revelations that will irrevocably change their lives.
Written by Samuel Baum and directed by Darko Tresnjak, it runs through Nov. 5 at the Gil Cates Theater at Geffen Playhouse in Westwood. For tickets, call (310) 208-2028 or visit www.geffenplayhouse.org.
"La Cage" A high-energy, immersive live theatrical experience will launch at Hollywood Roosevelt's iconic Cinegrill Theatre today, Oct. 5. Inspired by the legendary La Cage Aux Folles nightclub in LA, the variety show promises to bring back the golden age of Hollywood supper clubs to a new generation while paying homage to its rich history. Secretly hidden behind a bookcase at the Hollywood Roosevelt Hotel, audiences will be transported to a world of glitz and glamor where performers will dazzle with their live vocals and incredible dancing, all accompanied by the electrifying rhythms of a live band.
As a tribute to the original La Cage, the show will celebrate the groundbreaking performers who blazed a trail for drag culture. Original La Cage cast member and international entertainer Tommi Rose will serve as the emcee. Additionally, guests will be treated to a surprise celebrity performer at each show. Cheyenne Jackson and Ada Vox are among the special guests with additional performers and cast to be announced. To round out the one-of-a-kind extravaganza, audiences can dine at the opulent Cinegrill Theatre, which offers modern takes on classic cocktails, and a delicious supper club-inspired menu.
Adam Sanders, better known as his drag persona Ada Vox, is an accomplished vocalist, songwriter and drag queen who found success and pushed boundaries as a contestant on the hit singing competition series "American Idol."
Cheyenne Jackson is a Grammy and Emmy nominated actor and producer who most recently starred in three seasons of Fox's "Call Me Kat" opposite Mayim Bialik, in addition to HBO's "The Watchmen" and "The Morning Show."
Tommi Rose began his career performing in the bars and cabarets of San Francisco, gaining inspiration and learning his craft from great impersonators and comedians including Divine, Phyllis Diller and Charles Pierce.
The original La Cage Aux Folles nightclub launched in 1981 and its allure skyrocketed instantly as it showcased exceptional female impersonators and captivated audiences with their impeccable performances and featuring opulent production numbers, adorned with bedazzled singers and dancers donning magnificent costumes.
Directed by T.J. Dawson, the show opens today, Oct. 5 and runs Friday nights at 7 p.m. and 10 p.m. indefinitely. For tickets or more information, visit www.welcometolacage.com.
"Love Among the Ruins" In this newly reinvented version Jessica Medlicott (JoBeth Williams), once a great actress, is now a beautiful and wealthy widow. A handsome young Naval officer claims she promised to marry him and accuses her of "breach of promise." Her only hope may be the greatest barrister at the Old Bailey, Sir Arthur Granville Jones (Peter Strauss). Jessica Medlicott is no ordinary client and the sparks that fly as she drives Sir Arthur to distraction keeping the audience guessing, laughing and crying until the very end. Is she guilty of "breach of promise?" Only the great Sir Arthur can get to the truth!
Written by James G. Hirsch and Robert A. Papazian, and directed by Michael Arabian, it runs Oct. 6 through Oct. 29 at the El Portal Theatre in North Hollywood. For tickets, call (818) 508-4200 or visit www.elportaltheatre.com.
"Cindy & The Disco Ball: The Musical" Time-travel back to a decade that was dy-no-mite! Colorful fashion, sensational songs and disco dance moves bring an all-new Cinderella story to life. The story unfolds at a Southern California high school in 1976 including a glittering soul sister with magic up her sleeves who is keeping tabs on Cindy and her "messy" relationship with her stepsister. It's a fun and fabulous journey through teenage self-discovery, high school romance and four friends who dream up something big for the future – you know, the 1980s.
Written by Joseph Leo Bwarie and Lori Marshall, with music by Rachael Lawrence, lyrics by Joseph Leo Bwarie and Lori Marshall, and directed by Joseph Leo Bwarie and Christine Lakin, it runs Oct. 7 through Oct. 29 at the Garry Marshall Theatre in Burbank. For tickets, call (818) 955-8101 or visit www.garrymarshalltheatre.org.
"Dog Door" is a funny, smart and ultimately moving play about radical acceptance and the power of telling your own story. Five seemingly random dogs find themselves in a room with only one way out – and they can't leave until they've bonded together as a pack. Fortunately a sixth dog, Stella, a former military K-9, is there to help. But when an uncontrollable and foul-smelling stray joins them, the group is thrown into chaos. Can these canines discover the one thing that unites them?
Written by Grant Gottschall and directed by Genny Wilson, it runs Oct. 7 through Oct. 29 at the McCadden Place Theatre in Los Angeles. For tickets, visit www.dogdoorplay.tickets,pice.com/dog-door.
"Jews R 2 Much Fun!" Kathy and Stanley are deeply in love. They want to get married. Stanley is Jewish, Kathy's a Catholic. Interfaith marriages happen all the time in America. But Kathy's father Chris considers Stanley's father Marv to be a hated sworn enemy and has felt this way for many years. Kathy and Stanley's families are to be united in matrimony. In order to prevent Chris' hate from derailing their happiness, they devise a plan. Stanley's family, aided by Kathy's mother Mary, is about to give Chris a very special education. Hilarity ensues. Chris will ultimately have to reconsider the things that are stressing him out.
Written by Jerry Mayer and directed by Chris DeCarlo, it runs Oct. 7 through Nov. 12 at the Santa Monica Playhouse in Santa Monica. For tickets, call (310) 394-9779 Ext. 1 or visit www.santamonicaplayhouse.com.
"On Your Feet! The Story of Emilio & Gloria Estefan" This inspiring true story about heart, heritage and two people who believed in their talent – and each other – has already won the hearts of audiences and critics alike. "On Your Feet! The Story Of Emilio & Gloria Estefan" is the exhilarating original musical based on the extraordinary life of 26-time Grammy Award-winning husband-and-wife team Gloria and Emilio Estefan, featuring a book by Academy Award and Golden Globe winner Alexander Dinelaris and a score made up of some of the most loved and iconic songs of the past quarter-century including "Rhythm is Gonna Get You," "Conga," "Get On Your Feet," "Don't Want To Lose You Now," "1-2-3," and "Coming Out of the Dark."
Written by Alexander Dinelaris, with music by Emilio & Gloria Estefan, and directed by Luis Salgado, it runs Oct. 7 through Oct. 29 at the La Mirada Theatre for the Performing Arts in La Mirada. For tickets, call (562) 944-9801 or visit www.LaMiradaTheatre.com.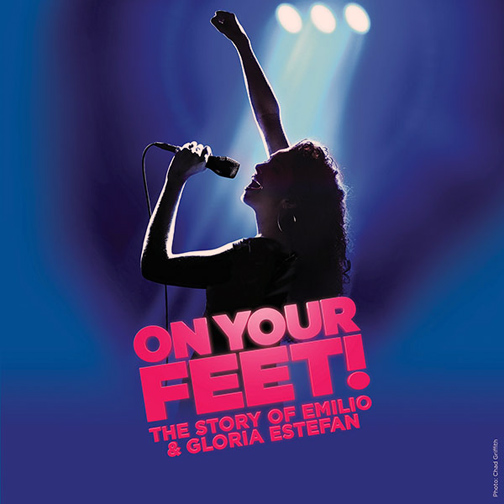 "Rise" is a poignant journey throughout the decades of an African American woman born and bred in Boyle Heights. As the neighborhood evolves, this love story unfolds the ties that bind her to it, unraveling the tragic mystery behind her unrelenting resolve to never leave.
Written by Kimba Henderson and directed by Lui Sanchez, it runs Oct. 7 through Nov. 5 at the Company of Angels Theater in Boyle Heights. For tickets, visit www.companyofangels.org/rise.
"44 – The unOfficial, unSanctioned Obama Musical (Told Through the Hazy Recollection of Joe Biden)" "44" is a melting pot of music that touches on the highs and lows of the Obama era – Sarah Palin scream-singing "Drill Me Baby" like Ozzy Osbourne, President Obama crooning "How Black Is Too Black?" over a smooth Motown groove and, of course, "Filibusters," a hardcore hip-hop jam that Mitch McConnell and Ted Cruz rap "Green Eggs and Ham" in its entirety. Barack Obama's election changed history. And as we can clearly see, it also ended racism forever! But "44" is the story of Obama you won't read about in history books … because history books are now banned in most states. But also because "44" is the story of Obama as Joe Biden kinda sorta remembers it.
Written and directed by Eli Bauman, with music by Eli Bauman and Jon "Bowzer" Bauman, it runs Oct. 11 through Nov. 18 at the Bourbon Room Hollywood in Hollywood. For tickets, visit www.44ObamaMusical.com.
"Fear of Heights" is a hilarious and heartwarming story about an Irish American kid's phobias, family life and the meaning of success. Kevin Flynn's grandfather, a tough, Irish steelworker, may have been unafraid to perch precariously on a steel beam high above the New York skyline – but young Kevin finds himself dreaming of the bright lights of Hollywood instead. In this funny, moving autobiographical solo show, the former professional soccer player and current award-winning stand-up comedian, actor, writer, producer and television host examines the American experience through the lens of his Irish immigrant family.
Written by Kevin Flynn and directed by Tim Byron Owen, it runs Oct. 12 through Oct. 29 at the Odyssey Theatre in Los Angeles. For tickets, call (310) 477-2055 Ext. 2 or visit www.OdysseyTheatre.com.
"Circus Caballero" A traveling family-run circus that started in Guadalajara, Mexico is coming to Panorama City soon! Circo Hermanos Caballero will set up its tents in the Panorama Mall parking lot. The circus is celebrating 20 years of shows in the United States with three generations of family members participating. The show features acrobats, dancers, trampolines, trapeze artists, clown, and an act called the Globe of Death, which involves five motorcycles circling in a large round metal cage. The show runs Oct. 13 through Oct. 23 at the Panorama Mall Parking Lot in Panorama City. For tickets, call (844) 372-9276 or visit www.circocaballero.com.
"Oliver!" Join young orphaned Oliver Twist as he navigates London's underworld of theft and violence, searching for a home, a family, and – most importantly – for love. When Oliver is picked up on the street by a boy named the Artful Dodger, he is welcomed into a gang of child pickpockets led by the conniving, but charismatic, Fagin. When Oliver is falsely accused of a theft he is rescued by a kind and wealthy gentleman, to the dismay of Fagin's violent sidekick Bill Sikes. Caught in the middle is the warm-hearted Nancy who is trapped under Bill's thumb but desperate to help Oliver, with tragic results. With spirited, timeless songs like "As Long as He Needs Me," "Food, Glorious Food," and "Where Is Love?" Oliver! is a musical classic.
Written by Lionel Bart, with music by Lionel Bart, and directed by Kari Hayter, it runs Oct. 13 through Oct. 22 at the Kavli Theatre at the Bank of America Performing Arts Center in Thousand Oaks. For tickets, call (800) 745-3000 or visit www.5startheatricals.com.
"Methusalem or The Eternal Bourgeois" In the play, the oldest man in the world, Methusalem, is a ruthless businessman with a troubled wife and robotic son who finds his daughter seduced by a revolutionary that would overturn his empire. Part dialogue, part dream, the play includes bizarre and surrealistic imagery including anthropomorphic paintings, silent films, talking ids and superegos, and a bear rug coming to life to lead an animal revolution.
Written by Ivan Goll and directed by Brent Hinkley, it runs Oct. 14 through Dec. 16 at the Actors' Gang Theater in Culver City. For tickets, call (310) 838-4264 or visit www.theactorsgang.com.
"A Midsummer Night's Dream" When two pairs of mixed-up lovers and a troupe of amateur players stumble into the forest of feuding fairies, reality is upended as chaos and mischief abound. Anything can and does happen in this tumultuous dreamlike world.
Written by William Shakespeare and directed by Julia Rodriguez-Elliott and Geoff Elliott, it runs Oct. 14 through Nov. 12 at the A Noise Within in Pasadena. For tickets, call (626) 356-3100 or visit www.anoisewithin.org.
"BEFOK (or the Desperate Attempt to Impress Iñárritu)" Lola swore she'd be a world-renowned actress by the age of 40, but that's in seven days and she's no closer to her goal than when she moved to Hollywood. She still walks dogs and cleans up their monster poops. After catching a glimpse of Iñárritu at the Alta Dena Whole Foods, Lola's convinced it's a sign she's destined to play the lead in his new TV show "The One Percent." What follows is a manic ride of determination, desperation, ketamine and chickens, where the only thing at stake is … her life. The show is truly "befok," an Afrikaans word that can mean a number of things: crazy, awesome, angry, cool or simply "not right in the head." For anyone who's pursued a career in Hollywood, it's a word with which they can identify – and it certainly applies to Lola.
Written by Asta Leigh and directed by Matt Ritchey, it runs Oct. 19 through Nov. 5 at the Odyssey Theatre in Los Angeles. For tickets, call (310) 477-2055 Ext. 2 or visit www.OdysseyTheatre.com.
"My Son, the Waiter: A Jewish Tragedy & Still Not Famous!" This hilarious and poignant story is still universal in its message: if you embark upon the journey to follow your dream and demonstrate the grit and passion required to make it as an artist, the rewards that come from never giving up are very much worth the blood, sweat and tears.
Written by Brad Zimmerman, it runs Oct. 19 through Nov. 12 at the Colony Theatre in Burbank. For tickets, call (855) 448-7469 or visit www.mysonthewaiter.com.
"Slow Thunder" Welcome to Vieux Carre where, on a soft autumn evening, time stands still and everything that's risen – or fallen – converges when Jewel's not-quite-ex, Peter, appears uninvited at her door. She's not pleased to see him and, with the arrival of her friends Rob and Bird, the quartet's chemistry – a volatile cocktail of loss and longing, vulnerability, and desire – jars the precarious balance and counterbalance of love and friendship.
Written and directed by Suse Sternkopf, it runs Oct. 19 through Nov. 12 at the Theatre 68 Arts Complex in North Hollywood. For tickets, visit www.SlowThunderPlay.com.
"Deathtrap" Sidney Bruhl is a playwright desperately in need of a hit. Just in time, a former student sends him the manuscript of his first play, a murder mystery called "Deathtrap." Sidney smells a hit … but he's never been that fond of sharing credit.
Written by Ira Levin and directed by Jamie Torcellini, it runs Oct. 20 through Nov. 5 at the International City Theatre Long Beach Convention & Entertainment Center in Long Beach. For tickets, call (562) 436-4610 or visit www.InternationalCityTheatre.org.
"Sally Spectre: The Musical" tells the story of the ghost of 5-year-old Sally. She's been stuck – alone – in the purgatorial bedroom of the New Orleans Victorian mansion in which she was gruesomely murdered nearly 50 years ago. Naturally, the netherworld has had an interesting effect on little Sally and her increasingly dark imagination has taken over almost everything that surrounds her. But the one thing Sally cannot do is find a way out of the room; for every time she tries to open the door, horrible and frightening things start to happen. The sudden arrival of a soul-collecting Wraith may change everything. Is Sally's time up for good? Will she ever get to move on to the afterlife that was intended for her? If she can stop eating spiders and pay attention for a moment, she just might make it!
Written and directed by David P. Johnson, with music by David P. Johnson, it runs Oct. 20 through Oct. 29 at the Theatre West in Los Angeles. For tickets, call (323) 851-7977 or visit www.theatrewest.org.
"She" Camille Ariana Spirlin ("Runaway Home at the Fountain") stars as 13-year-old SHE Sojourner Freeman. Resilient and ever optimistic, SHE overcomes her stifling small-town existence by re-imagining her reality through poetry. Her dreams take flight when she's presented with the opportunity to attend the prestigious Vanguard Academy.
Written by Marlow Wyatt and directed by Andi Chapman, it runs Oct. 20 through Nov. 20 at the Kiki & David Gindler Performing Arts Center in Glendale. For tickets, call (818) 506-1983 or visit www.Antaeus.org.
"The Angel Next Door" It is 1948 and an unlikely group of characters has assembled in a Newport mansion. An unexpected development threatens to doom a budding romance and one woman is destined to make things right – no matter what madcap antics she must pursue! Brace yourself for a perfect storm of comedic chaos and get swept away by irresistible charm and rapid-fire banter. This delightful escape promises a non-stop rollercoaster of mirth, leaving the audience breathless with laughter.
Written by Paul Slade Smith, adapted from "Play at the Castle" by Ferenc Molnár, and directed by David Ellenstein, it runs Oct. 22 through Nov. 5 at the Laguna Playhouse in Laguna Beach. For tickets, call (949) 497-2787 or visit www.lagunaplayhouse.com.
"Reset" 2020 Chernobyl. Jim arrives at the contaminated site of the infamously dilapidated nuclear reactor to take part in a new top-secret life-changing treatment that promises he will attain his "best self." But what he imagines is a self-help retreat turns out to be less of a day at the spa and more of a mind-bending quantum physics experiment, one that will reveal the devastating truths of what the future holds for him. Could his "best self" actually be the key to mankind's salvation or to its destruction?
Written by Howard Ho and directed by Darin Anthony, it runs Oct. 28 through Nov. 20 at the Moving Arts Theatre in Los Angeles. For tickets, visit www.movingarts.org/project/reset-23.
"Spring Awakening" is the revolutionary Tony Award-winning best musical that took the world by storm. In 1891 Germany, repressed, adolescent students stumble into adulthood as clumsily as they do into each other's arms. With obstinate parents unwilling to guide them, young Melchior and Wendla explore their desires for each other while Melchior's dear friend Moritz fumbles dangerously through his own coming-of-age. This generation-defining musical is a rock anthem to all the "guilty ones," poignantly exploring the dark, passionate and twisting journey from adolescence to adulthood.
Written by Steven Sater, with music by Duncan Sheik, lyrics by Steven Sater, and directed by Tim Dang, it runs Oct. 29 through Nov. 19 at the David Henry Hwang Theater in Los Angeles. For tickets, call 213-625-7000 or visit www.eastwestplayers.org.
Continuing
"Quixote Nuevo" A contemporary take on Don Quixote (considered the world's first modern novel) bursting with imagination and Tejano music. The valiant knight (a.k.a. Jose Quijano) sets out to find his long-lost love. But nothing is as it seems; he gets lost in his fantasies and the community wrestles with his dangerous reality. This fast-paced, bilingual fable about the joys and perils of being the hero of your own story makes its Southern California debut.
Written by Octavio Solis and directed by Lisa Portes, it runs through Oct. 28 at the South Coast Repertory in Costa Mesa. For tickets, call (714) 708-5555 or visit www.scr.org.
"The Human Comedy" tells the story of a 14-year-old boy who delivers telegrams to make money for his family. During the course of two days, he grows from an idealistic boy to a mature young man as he struggles with the unfairness of the world around him and the pain of families to whom he delivers the War Department's death notices.
Written by Thom Babbes, based on the novel by William Saroyan, and directed by Thom Babbes, it runs through Nov. 5 at the Actors Co-op David Schall Theatre in Hollywood. For tickets, call (323) 462-8460 or visit www.ActorsCo-op.org.
Sincerely,
Steve Zall, Publisher
Sid Fish, Co-Publisher and Editor