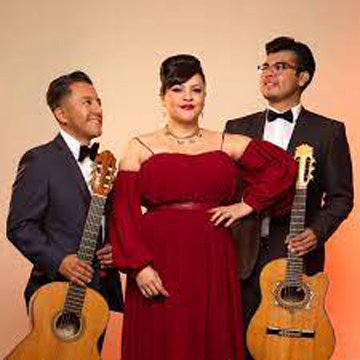 The 2022 Brand Summer Music Series continues its outdoor concerts at Brand Library & Art Center (1601 W. Mountain St. Glendale) on Fridays through Sept. 16. These concerts begin at 7 p.m. and feature music groups from Southern California and beyond. Seating is not provided; visitors are welcome to bring a chair or blanket and picnic on the grassy hillsides of Brand Park behind the library. Performances run approximately 60-90 minutes without intermission.
On Aug. 5 Tres Souls will perform. For the last decade, vocalist Rocio Mendoza and guitarists Roberto Carlos and Jesus Martinez have serenaded audiences in LA and beyond with their interpretations of a genre called "Bolero." They relive the vintage sounds and songs of the 1940s-1960s, stylized during the Golden Era of Mexican Cinema.
The Glendale Arts and Culture Commission sponsors the concerts through funding from the Urban Art Program and the Brand Associates, with support from Glendale Library, Arts & Culture, and Glendale Community Services and Parks.
Brand Library & Art Center has been a cornerstone for the arts in Southern California since 1956. This unique public library focuses on visual arts and music and provides free services and programs for a diverse community, including a collection of over 110,000 items, subject specialist librarians, exhibitions, concerts, lectures, dance performances, films, and hands-on craft programs for children and adults. Always evolving, Brand Library & Art Center continues to develop innovative programs, services and collections to serve an ever-widening public interested in the arts. Brand Library & Art Center is a branch of the City of Glendale Library, Arts & Culture Dept.