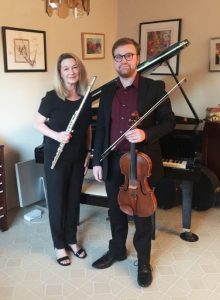 On Wednesday, July 21 at 12:10 p.m., the Free Admission Glendale Noon Concerts program will be streamed. Flutist Katherine Marsh and violist Patrick Marsh will perform works by J.S. Bach, Devienne, Vieuxtemps and Pleyel on a Facebook stream and YouTube.
The program includes J.S. Bach (1685-1750), "2 Part Invention in E Major, No. 6," Francois Devienne (1759-1803), "Duo Op. 5 No. 4," Henri Vieuxtemps (1820-1881), "Capriccio for Viola" and Ignaz Pleyel (1757-1831), "Duo Op. 44 No. 3."
Flutist Katherine Marsh is an active professional musician and teacher. She is currently the solo piccolo player of the Santa Barbara Symphony and has performed with the Los Angeles Philharmonic, Santa Barbara Grand Opera and Master Chorale, as well as other numerous symphony and chamber ensembles throughout Southern California. Originally from Bowling Green, Ohio, Katherine received a Bachelor of Music degree from the Eastman School of Music and a Master of Music degree from the University of Southern California. She regularly performs new music by local Los Angeles composers on the Glendale Noon Concerts series. In addition, she premiered the James Domine Flute Concerto with the San Fernando Valley Symphony. Her piccolo and flute playing can be heard in many "Star Wars" video games.
Patrick Marsh received his Bachelor of Music degree from the University of Michigan and a Master of Music degree from The Peabody Institute at Johns Hopkins as a viola major. As a violist, Patrick was one of the founding members of the Clemens Quartet, a string quartet performing and competing throughout the United States.
As a violinist, Patrick is a former concertmaster of The Los Angeles County High School for the Arts. His performance opportunities have taken him across the United States, Europe, and St. Petersburg Russia.
The Glendale Noon Concerts is celebrating its 13th year of presenting free admission, and now streamed, concerts every first and third Wednesday for Glendale and the Southland community.
More info about the program and artists, and the link to the stream, can be found at http://glendalenoonconcerts.blogspot.com.
For more information, email glendalesda@gmail.com or call (818) 244-7241.
Upcoming concerts will be updated at http://glendalenoonconcerts.blogspot.com.