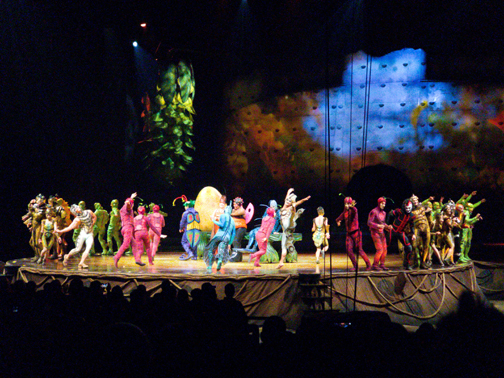 By Charly SHELTON
Cirque de Soleil has come to Los Angeles once again bringing the new show "Ovo" to Microsoft Theater audiences. Cirque du Soleil is known for the death defying stunts of acrobatics and various circus-like performances set to beautiful music, all with a specialized theme per show. This show is themed to the world of insects, with grasshoppers, ants, spiders and other bugs doing their routines on a larger than life set.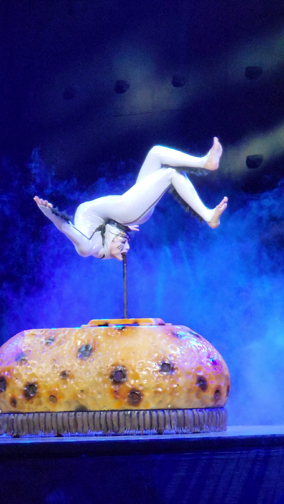 From a troop of ants climbing a set of poles only to spin themselves off and plummet back to the stage to grasshoppers throwing themselves down a 20-foot drop to bounce off of trampolines and return to the rock climbing wall they jumped from to a spider who winds her arms and legs up around her head and balances using only a stick in her teeth – these are some of the most amazing acts of physical exertion seen anywhere in the world.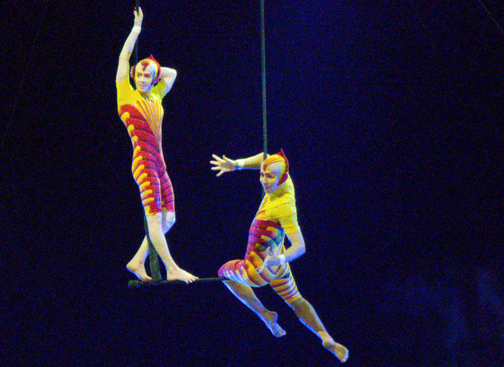 While we in the audience are sitting comfortably in our seats, these amazing performers jump and spin and twirl their way through a story that is based loosely around an egg. OVO. The story follows a wanderer bug that carries a giant egg on his back. When another group of bugs sees that the egg might be valuable, they swindle him out of his egg. Various acts follow, taking place between vignettes of the story of the wanderer bug trying to win back his egg. In the process, he falls in love with a beautiful ladybug that plays hard to get at first but eventually succumbs to his charms. The acrobatic acts don't necessarily have anything to do with the story, but do provide a nice narrative to track while the stagehands and acrobats set up the transitions from one set to another.
Unfortunately, the show packs up its egg and wanders along as of May 1, so time is limited for any who are interested in seeing it. It is definitely worth going to as it's a very fun night at the theater to see something you've never seen before.
OVO is currently playing at the Microsoft Theater through May 1; more information can be found at microsofttheater.com/events/detail/cirquedusoleilovo22.