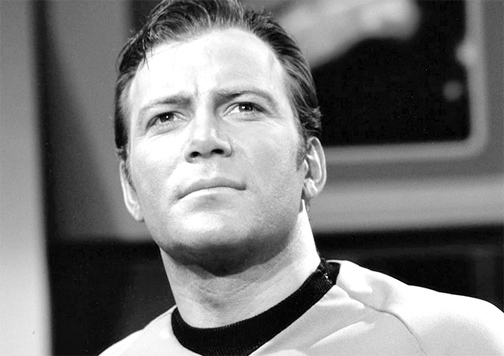 By Mary O'KEEFE
William Shatner turned 90 years old on Monday. He was born in Montreal, Quebec, Canada and for over 50 years has been part of the entertainment industry through his performances in television, films and theater … and, yes, even as a recording artist.
An outpouring of well wishes from his many fans were seen on Twitter.
"I'm here for a few minutes; I am overwhelmed by the outpouring of love. I just turned 90 … What happens when I get to 120?" Shatner tweeted on Monday in response to so many birthday wishes.
Shatner has created some of the most iconic characters in entertainment history from Bob Wilson, the Gremlin-warning passenger on an airplane headed through the "Twilight Zone: Nightmare at 20,000 Feet" to Denny Crane, the famous and infamous "Boston Legal" lawyer. Decade after decade he continued to make his own whatever character he played. His credits on IMDB [Internet Movie Database] begin in 1951 and continue to present day. He has performed on stage and both on the big and small screens.
But for many, William Shatner will forever be Capt. James Tiberius Kirk in the original "Star Trek" series. The series was supposed to be a type of "Wagon Train to the Stars" according to series creator Gene Roddenberry.
Capt. Kirk led a crew of diverse humans and aliens from one space adventure to another. It is not an easy thing to take a series that only lasted three years in the 1960s before it was canceled and make it into one of the most historical comeback stories. It takes a creative mind to set the foundation, as Roddenberry did, then talented writers who took their craft seriously and were not afraid to cross barriers. These included having a woman science fiction writer in the 1960s – Dorothy [DC] Fontana.
The role of the first captain of the USS Enterprise went to actor Jeffrey Hunter who played Capt. Christopher Pike. The series, with him as captain, was rejected and the role was recast with Shatner as Capt. James T. Kirk. To say Shatner's take on the captain of the Enterprise was different would be an understatement. He portrayed the captain as an intense serviceman who had no doubts of who he was – flaws and all. He also added his unique sense of humor, which came through most when Kirk worked with the logical and mostly stoic Mr. Spock, portrayed by Leonard Nimoy.
Nimoy and Shatner have both said they became lifelong friends and the beginning of that friendship can be seen in the original series. Both Nimoy and Shatner had their struggles with the characters they created and, in particular, the very involved fans but became more accepting with their roles, especially with the many reboots of the franchise.
As a Trekkie, which I am, "Star Trek" pulled the audience into a world where society had learned from its past mistakes and made it through – from climate change to racial bias. They faced new challenges but, with Capt. Kirk at the helm with the strong support of other officers and friends, they were able to face those challenges and prevail.
At 90, Shatner is aging just as we would expect Capt. Kirk to do – he may not be up to fighting any more Gorns but he can continue to inspire the crew with courage and a sense of humor.