#SHOPSMALL This New Year!
It looks like Glendale City Clerk Ardy Kassakhian practices what he preaches. 2015 is the perfect time to make a resolution to shop small in the Montrose Shopping Park. The Shop Small campaign by American Express has been very instrumental in getting the word out across this nation to support local small business. What is the best way you can support us and make sure we don't go away? By making a decision to buy from your local "mom & pop" specialty stores. Although compliments and encouraging words are nice and very appreciated they don't pay the rent. Thank you for following the example of Ardy, Councilwoman Paula Devine, and many others. #SHOPSMALL
It's Time to Take a Spin!
It seems the Montrose Shopping Park has been the birthplace for new exercise chains. Did you know Pedal Spin Studio started here in 2008? It was so successful that they now have four locations and are growing. Is one of your resolutions to get in shape and have fun while you're doing it? Maybe it's time to take a spin! Custom bikes are all lined up ready to go and you are entertained with music, lights, and a professional instructor. Check out www.pedalspinstudio.com to find out how you can try an intro to spinning class for free!
New Year, New Stores, New MSPA Board Member!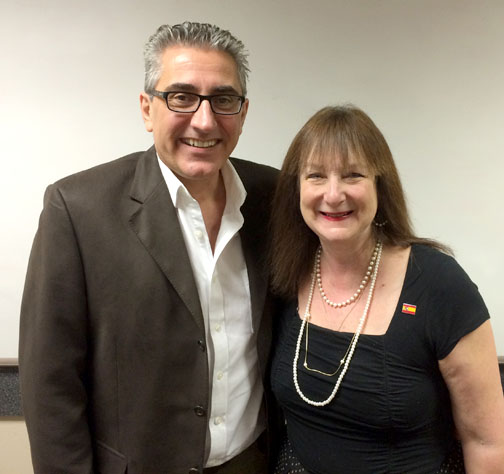 It is the nature of the Montrose Shopping Park to subtly change with businesses closing and new ones coming in to take their place. This year we welcomed J'Adore Boutique, Nail Gallery Spa, LaPerla Home, Bubble Cuts, Etc. Gourmet Kitchen, La Fleur Pastry, The Elbow Room, Seasoning Alley, Kids Art, Cracking Crab, and Kabab Daddy just to name a few. We also welcome Jeannie Bone, owner of Casa Cordoba who was elected to serve on our MSPA board. Here she is with reelected President Andre Ordubegian of Copy Network. We look forward to a good year and wish you Happy New Year!