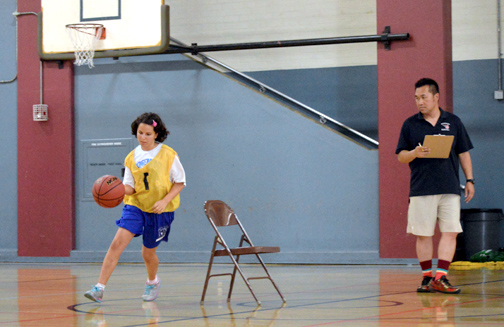 By Brandon HENSLEY
Young basketball players in the community who may one day have dreams of playing for respected high school programs like Village Christian or Crescenta Valley would be wise to first take advice from coaches Bon Sam and Brent Ballard: fundamentals first.
Sam and Ballard coach the girls' and boys' teams, respectively, at Rosemont Middle School, which held tryouts for the upcoming season last week and this week.
Before a girl does anything fancy on a basketball court, Sam wants to see her exhibit three skills: dribbling a basketball, controlling the ball while dribbling, and controlling her body while dribbling.
"If they are able to do two out of three, that's not bad. If they can do all three, that's pretty darn good," Sam said.
Ballard has the same fundamental approach for the boys, but looks for something different.
"We have them do a defensive slide and a left-handed layup," he said. "If they can do those two things we know they've played basketball."
Everyone associated with middle school sports in Glendale Unified School District knows how successful Rosemont has been on the hardwood. Ballard's teams have lost the district championship only once in five years, and the girls have won it every year. (The other middle schools that participate are Wilson, Toll and Roosevelt.)
Sam, who replaced Chris Bouchard last season as head coach, put the girls through multiple drills on Friday and Monday. Players had to dribble around chairs and cones and then spot up and shoot. They went through the quick decision-making process during fast break drills, and there was also the classic three-man weave.
Sam, who is assisted by Paul Nguyen and Serg Karakas, said he was unfamiliar with most of the girls trying out. He nonetheless was excited to see what this team will bring to the court.
Last year was his first season coaching this age group.
"It was a wonderful season. It was a good learning curve for me," he said. "I work with young kids, elementary school. Now I'm jumping up to middle school. I had to adjust what I needed to teach the kids."


This season, Sam will be trimming the roster, which is expected to be announced today, with the first practice coming on Friday. He carried 22 players last season, and that meant playing time was hard to come by, even when it was a blowout win and Sam emptied his bench.
This year he wants to carry 15 or 16 players, making life a little easier on him, and allowing the girls who make the team to see more time on the court.
"Last year was pretty tough. I based it on what happened in the first half. If it's a blowout, then people will start getting minutes," he said.
There were about 100 kids trying out for the boys' team, over 60 of them seventh graders. Ballard said that was an all-time high, and said he didn't know what kind of team he was going to have this season.
"You might see a change this year. We might take more seventh graders than normal," he said.
Regardless of the  grade level, Ballard will carry 20 kids on his roster, just like last year. Much of that decision  has to do with his assistant coach Scott Alvarez, whom Ballard praises as an overlooked coach for his efforts.
"We talk about [trimming the roster] but with Scott helping out, he does such a great job, we can handle 20 kids. And it's more about … we want to give as many kids as possible the experience," Ballard said.


The experience of playing for Rosemont can be beneficial for middle school kids looking to prepare for high school. The atmosphere is intimate and loud, jam-packed with screaming students and passionate parents. School drumlines and cheerleaders also enhance the environment, making these games even more frenzied then some frosh-soph games in high school.
"Ballard says the quality and success of Rosemont's sports program starts with its principal, Dr. Cynthia Livingston, and her support.
"She loves it, she's on board with it 100 percent. I think every year it gets better and better. Great crowds. It keeps me coming back," Ballard said.
"I didn't anticipate the atmosphere," Sam said. "I thought it was going to be low-key, but I was blown away when I came out and the stands were full. It was a huge help for me."


For the boys, they were visited last year by CVHS' varsity coach Shawn Zargarian at halftime. Ballard's son Trey plays for Zargarian, and Ballard tries to mold his Rosemont program into something that prepares players for a potential high school career as a Falcon.
"It's special. I think it's big when Coach Z comes to the games," Ballard said. "It's good. I think we feel like we're a bit of a feeder program."
Rosemont basketball plays once a week for six weeks, beginning in September. Visit rosemontweb.org/sports for more information.