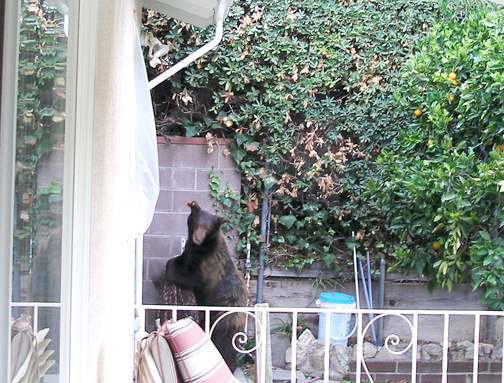 "Now and then we hear the wilder voices of the wilderness, from animals that in the hours of darkness do not fear the neighborhood of man: the coyotes wail like dismal ventriloquists, or the silence may be broken by the snorting and stamping of a deer."
~ President Theodore Roosevelt.
By Mary O'KEEFE
Crescenta Valley lies between the Angeles National Forest and the Verdugo Mountains. It is the perfect place for a quiet "bedroom" community where both city and wilderness can be celebrated. But human residents are not the only ones that call this area home.
Mountain lions, bears, bobcats, raccoons, skunks, deer and coyotes are just a few of the nighttime visitors that roam the streets of Crescenta Valley. Lately those nighttime and early morning visitors have been seen on a more regular basis.
The City of Glendale has had 17 calls involving mountain lions and bears from the area around Whiting Woods since the beginning of June. There were no calls prior to that and most of the calls concerned bears, according to Sgt. Robert Williams of the Glendale Police Dept.


Nine of the calls were in June and eight calls, to date, in July.
"Bears are reported eating out of trashcans or fishing out of a koi pond," Williams added in an email response.
One bear with a red tag No. 2 in her ear seems to be making the rounds. This week Whiting Woods resident Mike Baldwin was at home when his wife yelled at him to call 911.
"She heard a splash in the pool," Baldwin said.
The splash came from the big bear enjoying a little dip in their pool. The GPD had been to their neighborhood a few weeks earlier after getting calls about a bear. They told neighbors to call if they saw one.


"After the bear went swimming it came up our side yard and looked like he (she) was going to climb the fence," Baldwin said.
The Baldwins' small dogs were on the other side of the fence. Baldwin made a noise; the bear looked at him and went back down a path, climbed another fence and went into the alleyway.
"It was about 10 minutes later when the police came and told us the bear was in [a neighbor's] avocado tree," Baldwin said.
The police made noise and maneuvered the bear back into the hillside.
"There has been another [bear] with a cub in the [neighbor's yard]," he added.
"We haven't received any direct reports but we know they are there and are being seen," said Patrol Lt. Marty Wall, Los Angeles Dept. of Fish and Wildlife.
Wall said that residents posts sightings on websites but do not necessarily contact their office or local law enforcement.
"The one bear we do know is a female with a red tag No. 2. We just call her Red 2," he said.
Wall said bears face considerable obstacles to get south of the Foothill (210) Freeway. But some are very motivated as they seek out food and water for survival. On June 9 residents in La Cañada had a visitor during the day in the 5100 block of Jarvis Avenue. The estimated 200-pound, 3-year-old bear climbed a 40-foot cedar tree and took a little nap. The CV Sheriff's deputies and Wall waited until she woke from her nap to maneuver her back to the forest. Earlier that day a bear had been seen on Waltonia Drive. It is not certain if they were the same bear.
Bears are not the only visitors in the area. There have also been several reports of mountain lions with sightings from the base of Angeles National Forest near Markridge Road and Ramdell Avenue to the Verdugo Woodlands area near Glendale Community College.
No one knows better than resident Susan Lapham what is making those bumps and growls in the night. She has set up game cameras around her hillside property and has captured photos that amaze and surprise her.
"[I] was  amazed at the quality and clarity of the photos and the [number] of animals that passed by," she said.
In those first days motion sensitive cameras caught 40 to 50 photos of skunks and coyotes … and mountain lions.
The Lapham yard seems to be a thoroughfare for animals between the hillside wilderness and Verdugo Park.
The mountain lion that has been tagged P41 started visiting in October, always at night. Lapham contacted a biologist with the National Park Service. Not only has she learned a lot about the lion's habits but has helped the biologist by sending photos of P41 to help him track the mountain lion.
"I have never met [P41] face-to-face but I don't go walking in the dark," she said.
She added she knows what travels along the yards and streets during the night and does not take any chances on meeting up with them.
"I am not afraid but I don't go out after dark," she added. "We have a lot of skunks."
"We have bobcats. That was the most exciting thing [we have seen]. A bobcat had her cub and we watched [the cub] hanging out with mama," she added.
She watched as the bobcat taught her cub to pounce and how to be a bobcat.
Lapham has seen bears as well via her cameras but doesn't want people to be afraid of the animals that live among us.
"I don't think you need to be afraid. It is rare to have a face-to-face encounter," she said.
She added if people do go walking at night, or any time, they need to pay attention. She sees so many people walking with their eyes on their cellphones and not watching the area around them.
Cellphones are another reason for concern with wildlife.
"The big thing now is to take a selfie with a [wild animal]," Wall said.
He strongly advised against that.
Wildlife is part of the CV life; however, those who see bears or mountain lions and are concerned may contact LASD CV Sheriff's Station at (818) 248-3464 or GPD at (818) 548-4911.
Tips Regarding Wildlife
Wild animals don't need handouts. They need respect.
A bag of garbage, bowl of pet food, or plate of leftovers left outside a home or vacation site can cause severe harm to wildlife.
Most wild animals will not bother humans; they naturally fear humans and keep their distance – so long as they remain fully wild. But if wild animals have access to human food and garbage, they want more. They lose their natural fear of humans and can become aggressive.
If bears and other wild animals damage property or threaten human safety, they might be killed. Tips provided by the California Dept. of Fish and Wildlife