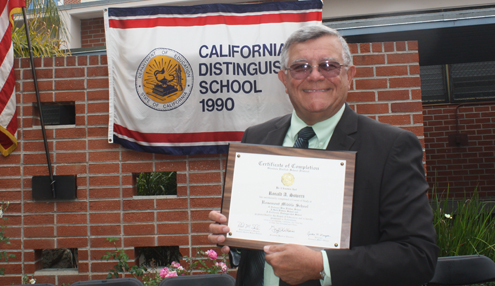 GUSD schools moved students on within the district while graduating high school students into their future.
By Mary O'KEEFE
It was a Rosemont Middle School promotion to remember, not just because over 600 students are now heading off to high school but it also marked the end of a Rosemont era – it was the last promotion overseen by Mr. (Ron) Sowers.
Sowers is retiring from Rosemont, so on Wednesday for the last time he stepped to the podium before the ceremony began and gave the same speech he has given for over two decades as an assistant principal.
"The first thing I am going to tell you is, if I get wet you get wet," Sowers told the audience of parents, grandparents, family and friends.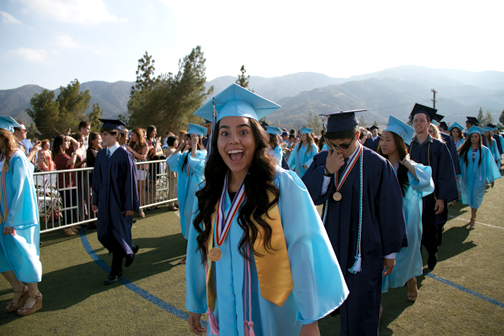 Wednesday morning had just enough drizzle to keep the audience, staff and students damp but not soaked.
"Umbrellas down, put them down, put them down," he said. "You got to remember when you put an umbrella up the people behind can't see … Rosemont's motto, written by the students, is honor, excellence and pride and we would like the ceremony this morning to reflect our motto."
The promotion began with eighth grade President Cathlyn Jade Junio welcoming the audience and ASB (Associated Student Body) Secretary Brandon Lim introducing guests.
Throughout the promotion ceremony student speakers were invited to the podium to give the Class of 2015 Farewell Speech. The first was Teny Noordermeer.
She spoke about the students continuing their educational adventure.
"This is the first adventure where we truly begin to decide which path to take amongst so many before us," Noordermeer said. "Rosemont's motto is honor, excellence and pride. Every morning I walked through Rosemont's blue colored gates with pride knowing I was honoring my family, my ancestors and my community by not settling for ordinary, but rather by striving to be extraordinary."
She thanked Principal Dr. Cynthia Livingston, teachers and parents for their devotion and support.
"Rosemont has taught us that we are not defined by the mistakes we make but rather by our reaction to those mistakes and how we come back and learn from them," she said.
Jonghyuri Andrew Hong was the second speaker.


"We all came through that door looking for something we wanted to do or wanted to be for our future," Hong said. "They say the most important day of your life is the day you are born, and the next important day is the day you find out what you were born for," he said.
Amanda D'Ambrosio shared one of the most memorable events she was part of while at Rosemont.
"I am a member of the Random Acts of Kindness Club. The club centers around kind acts in the school and the community," D'Ambrosio said.
Last semester she, as part of RAK, participated in donating items for kids in "less fortunate countries." The club sent about 50 boxes of donated items to kids in need. D'Ambrosio said this act made her appreciate her school, family and community.
"Honor, excellence and pride – this motto sets a standard for Rosemont students. It's a constant reminder of the impact of the choices that we make," she added.
When the last speaker, Sarah Zohrehvand, took to the podium she reflected back to her first day at Rosemont. She had made arrangements to meet friends at a specific place on campus before first period. Apparently everyone had the same idea and several new seventh graders were at her prearranged meeting spot. She wandered around until finally she found someone she knew and they went to first period together.
"I may have struggled that first day at Rosemont but soon I discovered how great a school it is," she said. "When you walk down any hallway it [is lined] with vibrant posters and positive slogans."


Her hope for the Class of 2015 is that the students take with them not only the academic knowledge that they have learned but also the "knowledge of ourselves and world around us."
Class of 2015 members Elizabeth Petersen, Katie Blood and Zackary Bayles are cousins and second-generation Rosemont graduates. They were excited about moving on to the next adventure of high school and already have their Crescenta Valley High School plans mapped out.
Bayles is planning on joining the basketball team and has an interest in computers, Blood is heading toward the drama department, band and choir while Petersen shares with both her cousins their interests in basketball and choir.
At the beginning of the promotion, Sowers explained how the students had worked hard for two years to get to this morning's event and how they all deserved respect. He asked the audience not to cheer as names of those promoting were called but to wait until all names were read. He then added that if this suggested rule was not followed he would stop the promotion to talk to the audience again … and he did just that.
But the promotion was not complete until Sowers received his promotion diploma.
"He is being promoted to retirement," Principal Livingston said as she presented it.


Later in the day at Clark Magnet High School, families and seniors were gathering in the outside arena for their graduation ceremony. Earlier clouds had mostly cleared as the students took their seats to the applause of family and friends.
Recognized for their achievements were valedictorian Shushanik Stepanyan and salutatorian David Agajanian. Principal Doug Dall greeted those assembled praising not only the students but the school as well.
"Clark Magnet was recognized s a California Gold Ribbon School. Additionally it was recognized as a California Exemplary Career Technical Education School, one of 11 in the state. It was also recognized as a Title I Achieving School," Dall said.
It was with obvious pride that the students nodded as Dall described the attributes of Clark … and what it meant to graduate from the magnet high school.
"There 1325 public high schools in California. There are only five schools across the state that won those three awards," Dall continued. "But there was only one California high school that was also a National Blue Ribbon School, and that school is Clark Magnet High School in Glendale, California."
The Crescenta Valley High School Class of 2015 is on its way to the next great adventure. Over 700 seniors walked across the stage and received their diplomas, or at least the folder that will hold their diploma.
The class that had accumulated 60,075 community service hours and was awarded about $1million in grants and scholarships attended their last event as CVHS students and were now free to change the world.


"Guys, no pressure at all but our future depends on you," joked Dr. Armina Gharpetian, Glendale Unified School District board member and clerk.
She advised the students not to be shy but to knock on many doors.
"Tomorrow you will find yourself in a massive ocean of possibilities and all you need to do is believe in yourself. When you believe in yourself you are half way there," she said.
But it was the past and present that some seniors were thinking about, leaving friendships that had been forged over years from elementary school to this day.
"It's a little bit sad and scary," said Katie Davis, a graduating senior reflecting on the day.
"It's a little surreal," said fellow senior Brett Tyler.
He added during commencements he looked at the students around him and wondered how many would he stay in touch with and if friends made will remain friends after graduation.


Davis added she thought her close friends would remain close, but others, the acquaintances that she has met, she "probably is not going to see again."
Before entering the field at CVHS where graduation ceremonies took place, Temoc Ramirez said he would miss the community, especially his friends, when goes to college in San Francisco.
Becky Suh lightened the mood with her senior address. She first took her phone out and took a "selfie," then spoke of how she went from a shy girl who was afraid to speak to standing on the stage giving her speech.
"I think that I can say my experiences at CV are what made me who I am today," Suh said. "I can say I am a better person because I attended CV."
Grigor Kasabyan gave the second senior address. He too took out his phone attached to a selfie stick and took a picture.
"It is a tremendous honor to speak to my class one last time during our graduation ceremony and offer a last high school lecture and lesson," he said.


He told his fellow students not to wait for good things to happen but to make them happen. Then he offered some advice.
"Tackle one task at a time, make small goals and don't overwhelm yourself with so many deeds," he said. "I will measure my task in a different way, not by tasks, not by semesters and not by years but by friendships made and time we spend together. We sit here thinking it has finally come to an end but in fact it is a whole new beginning of life."

Crescenta Valley High School 2015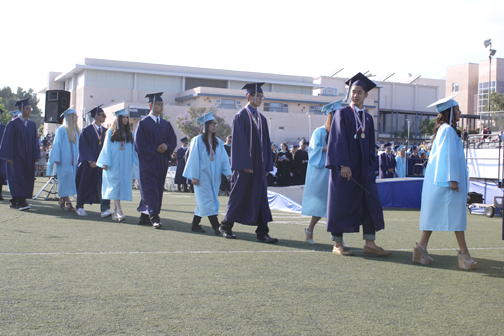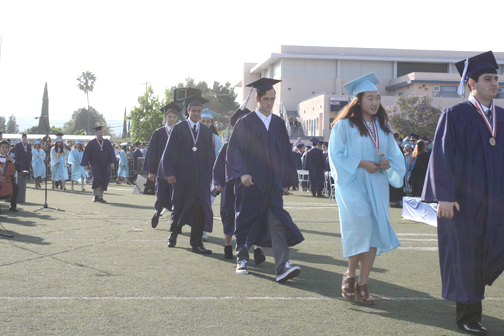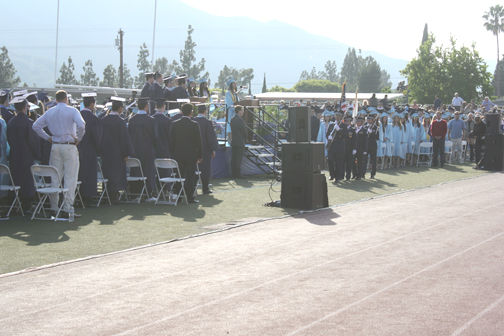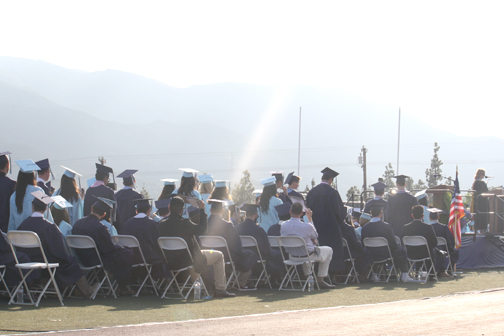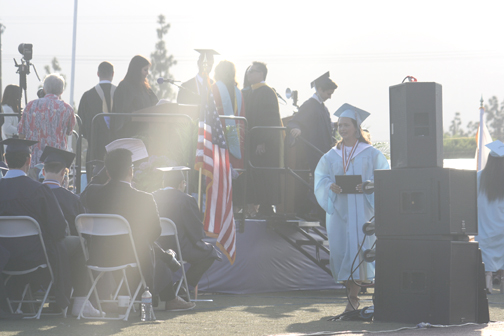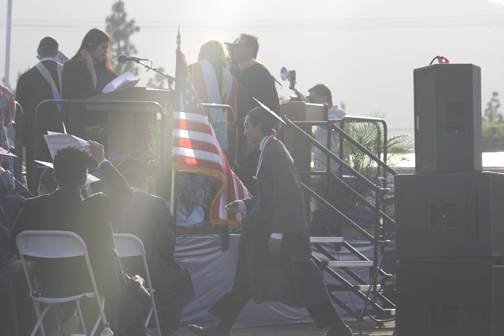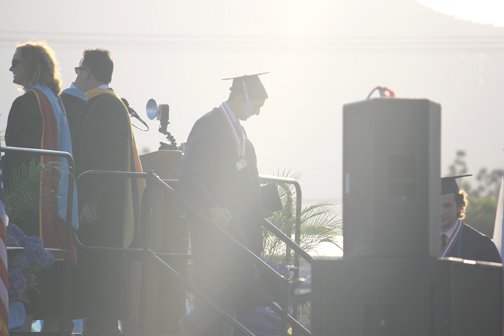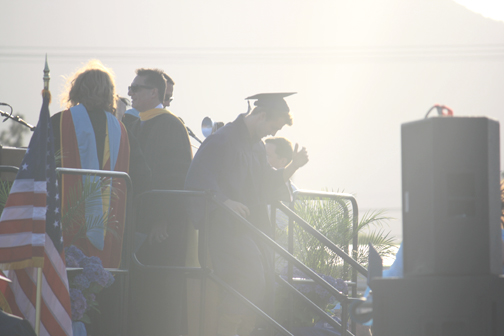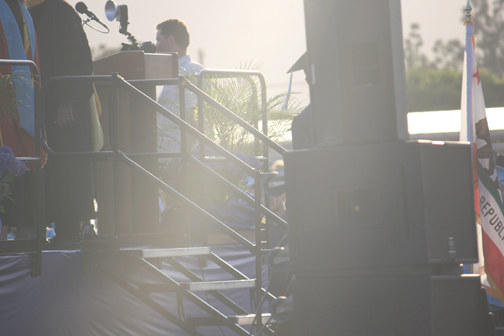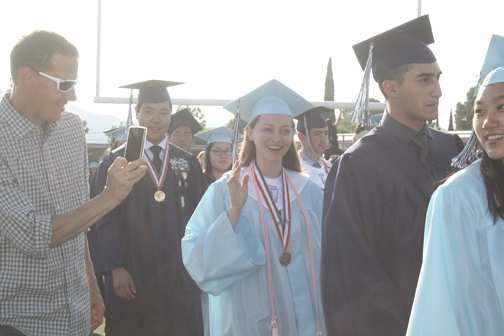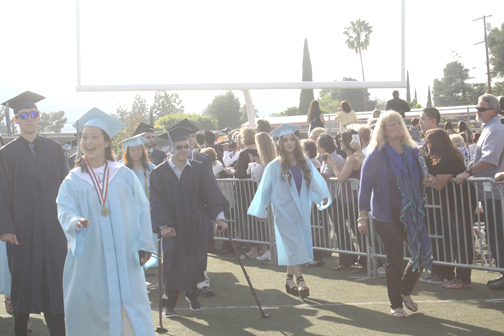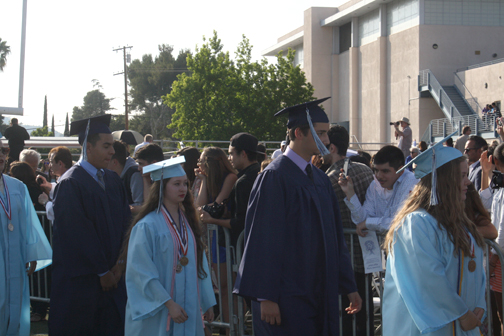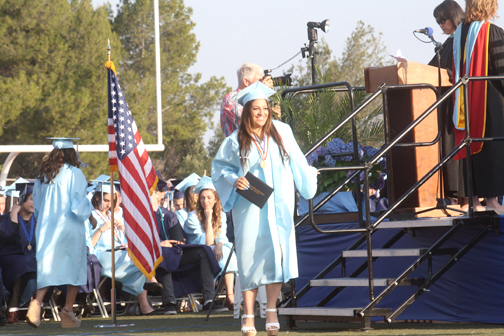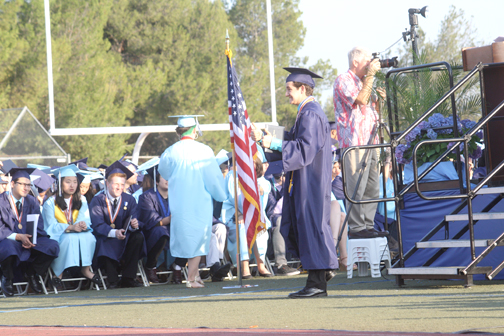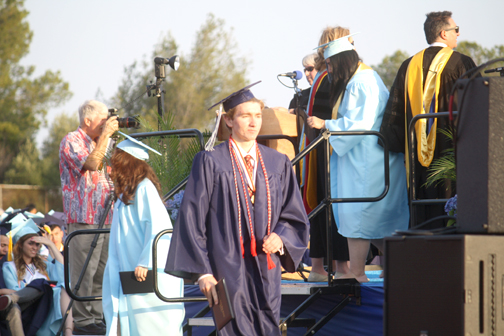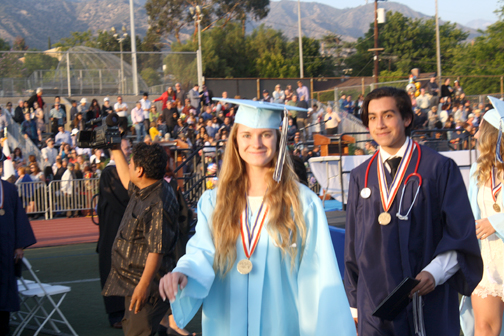 Photos by Charly Shelton, Jessy SHELTON and Mary O'KEEFE
Clark High School 2015
Photos by Brandon HENSLEY