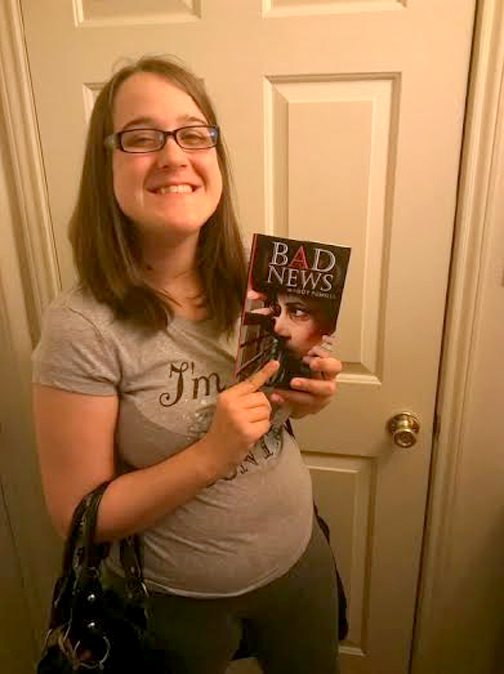 By Brandon HENSLEY
Maddy Pumilia loves to write. It's what led her to study journalism at Cal State Northridge, and it's given her a career she loves as an assignment editor at a news station.
Her job is also what led the 24-year-old to write her first published novel, "Bad News," a suspense thriller that Library Tales Publishing debuted this summer and is available on Amazon.com.
Pumilia, who attended La Cañada High School and freelanced for the CV Weekly after graduation, has written a couple of other stories, but this is the first one she tried to have published. The idea came to her while working at KABC in Los Angeles. She thought, "What if someone calls the newsroom and says, 'I'm going to kill someone'?"
"I ran with it and started writing and before you know it I had a book," said Pumilia, who now lives in Weslaco, Texas and works as an assignment editor for KGRV.
"Bad News" follows the story of Cassie Tahoe who answers phones for a small-town news station. One day an unknown caller tells her he's going to kill someone. When the lead anchor at the station turns up dead, Cassie discovers she's connected to the murder's plot. There is also a romance element, involving a detective named Franco, but a secret from Franco's past threatens to tear him and Cassie apart.


Pumilia said life imitated art one day. After she started writing the book, she actually received a call from a person who told her he was going to kill someone.
"He said he was a convicted felon … he said, 'If you don't listen to me I'm going to kill someone,'" she said. Pumilia contacted authorities, but never heard what came of the incident.
Although the idea for the plot came from Pumilia working her job, she said she didn't incorporate any other experiences from her life into the book. She said Cassie Tahoe isn't even much like her, except for one habit.
"She has the same nervous habit of biting her pen. But I don't think she's really like me," she said.
Pumilia works hard and fast. She worked on the book for two months, then took some time off because of some life changes, then went back to work and finished it quickly.
"All I want to do is write," she said. "I come home from work and I'm on the computer typing. I don't want to watch TV. I just want to write."
The publisher gave her notes, and Pumilia said the worst part of the process was definitely editing her manuscript. Fortunately for her, she didn't have to make any changes to the characters or plot. The main edits Library Tales gave her were to rewrite what proper police procedure would be in certain scenes. As for having a favorite scene to write, she couldn't divulge too much, because that treads into spoiler territory.
"When you find out who the killer is, that's my favorite scene," she said.
Pumilia has received support from her family and friends and recently signed her first mailed copy to someone. That must have been quite a feeling.
"Yeah," she said, pausing. "It was pretty cool that someone would want me to sign a book."
There will be a book signing at a Barnes and Noble in McAllen, Texas on Aug. 1. Pumilia has plans to visit Southern California in October. She might hold a local book signing then.
Pumilia is a die-hard Pittsburg Steelers fan and covered the Crescenta Valley High football team in 2011, but she has no plans to write about sports fiction. She doesn't even consider the thought of being a full-time author.
"I love producing," she said of her job. "It's my true love. Writing books is more of a hobby for me. I like doing it, but I wouldn't just do that because then you wouldn't leave your house. I need to go out and see the world."
For more information about "Bad News" and Pumilia, visit maddypumilia.com.