By Brandon HENSLEY
Meet OkCupid user tracylovescats. Female, 36, straight. Do you want to date her? If so, be prepared, because if you can't figure out from her username, she … loves … KITTIES! If you don't love KITTIES then you won't love her!
How about MrNightlifeTron? This bro knows how to party like a rock star, and he's never home before 5 a.m. Never. He's a funky robot who keeps going, and going, and …
If constant inebriation isn't your thing, you may be interested in Pioneerinabox, a woman who never breaks character pretending to live in colonial times. Choose her, and you could churn butter while melting each other's hearts.
Okay, so these aren't actual OkCupid.com users. They're fake profiles born from the mind of Robyn Lynne Norris, co-creator of "Undateable," a scripted show for The Second City Hollywood theater, which takes place every Friday at 9 p.m.
In 2012, Lynne Norris' friend wanted input with her online profile. In order to get the full scope of online dating, Lynne Norris created a page of her own, a real photo but with ostensibly off-putting information. Thus, tracylovescats was born. She was shocked to learn how many people wanted to get frisky with Tracy, and the revelation that more men wanted to date that persona than the real Lynne Norris prompted an investigation.


She spent months of research with her creative partner Bob Ladewig testing the boundaries of which real online daters would respond to the most insane, manic made-up profiles. Then they turned it into a show.
"Undateable" celebrated its three-year anniversary on June 3, and it is now the longest running sketch show in the theater's history.
"There was a buzz about it," Lynne Norris recalled. "We started selling out. I've done a lot of shows, but I've never had a buzz the way I have about this show."
"Undateable" offers not only a different look into dating, but also how a show at SC can be structured and written, said cast member Brooke Trantor.
"Second City has a formula to a lot of their shows, and Robyn went outside of that," said Trantor, who has recently stepped into Lynne Norris' narrator role. "She had this idea that was so unique. It was a leap of faith, but here we are three years later. It was a good leap to take."
The wacky characters are portrayed every week by the main cast comprising Trantor, Patrick Quinlan, Rachel LaForce, Carolyn Marie Wright, Sky King and Kyle McGrath.
The one-act show takes the audience through an experiment on the lengths to which people go to find a connection. Some of the real people who contacted the characters were strange, or downright crude (R-rated usernames and the language they used are included). But "Undateable" works hard to prove that even though a Cuban who writes in broken English may come on too strong – hilariously and devastatingly portrayed by Quinlan – he's just like most people, looking for his own salsa partner.


Lynne Norris is currently performing in front of a bigger audience and on a grander stage at The Second City in Chicago, under the name "#DateMe: An OkCupid Experiment." Alongside her there is Dana Robie, a former cast member of "Undateable" who auditioned this past year to be a part of the Chicago cast.
"Since I've come to Chicago, it all makes sense now this whole journey Robyn's been on … a huge chunk of her life has been devoted to this one thing, which is cool," said Robie, who is from La Crescenta and graduated from Flintridge Sacred Heart Academy.
The first time Lynne Norris saw her she knew Robie was a natural at making people laugh. Her energy and motivation make her a fit for the big leagues in Chicago.
"Audiences want to relate to her. The whole point of our show is that it's a bunch of friends doing this experiment together, and she's relatable to the other actors and the audience," Lynne Norris said. "She's so happy to be there. She takes it seriously and works hard."
"Dana could do anything she wants," Trantor said. "She could do 'Saturday Night Live,' she could be on film, and because she's so present in her acting, she would be phenomenal in front of a camera."
Back in Hollywood, Trantor enjoys the challenge every week of finding a new way to engage the audience. Where can she find a pocket of pleasure within that one hour that lifts the audience up, and in turn does the same for her? Once those laughs starting coming, Trantor doesn't want them to stop.
"It's a joy. Friday nights are what I live for every week," she said.
Trantor is from Quincy, Illinois. Unsure of how L.A. was going to treat her when she arrived five years ago, she was delighted to know her cast mates all pull for each other. That kind of chemistry is apparent under the lights.
"They're a tight group. They're friends, and you can see that onstage," Robie said of the Hollywood crew. "When people get along in real life, it translates into performing."
Live theater may be an overlooked aspect of entertainment in L.A., but residents in the foothills might find "Undateable" to be what they're searching for on a Friday evening.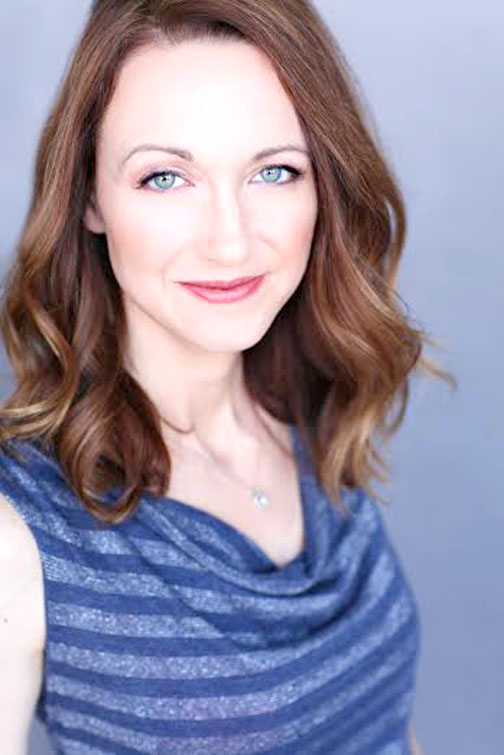 "It's a perfect thing to do on a date," Robie said. "It's not too far, it's in Hollywood, and it's a really fun thing to do with friends or somebody special."
Visit datemediaries.com, the official blog for weekly backstage secrets as well as inside information on the original OkCupid experiment that inspired the shows. For more info on "Undateable," visit undateableshow.com. Contact Lynne Norris at RobynLynneNorris.com.