By Pat KRAMER
Making its international debut in America, the multi-dimensional and hauntingly moving exhibit "Armenia: An Open Wound" opened its doors to the public at The Brand Library Art Galleries in Glendale on April 16. The opening ceremony was attended by top dignitaries from city, state, secular and religious affiliations, including Glendale Mayor Paula Devine, Los Angeles City Councilmember Paul Krikorian, State Senator Carol Liu and Armenian American co-chairs of AAM's Governing Board Primate Hovnan Derderian and Prelate Moushegh Mardirossian.
Curated by the Museo Memoria y Tolerancia [Museum of Memory and Tolerance] in Mexico City, "Armenia: An Open Wound" takes viewers on a detailed journey starting with the origin of Armenian civilization some 3,000 years ago through time revealing Armenia's unique contributions to art, literature, religion and culture and the Genocide that followed in the late 1800s and most notably in 1915 by the Ottoman Empire. The exhibit opened in Mexico City in 2015 and was brought to Glendale through a partnership between the City of Glendale Library, Arts & Culture Dept. and the Armenian American Museum in Glendale.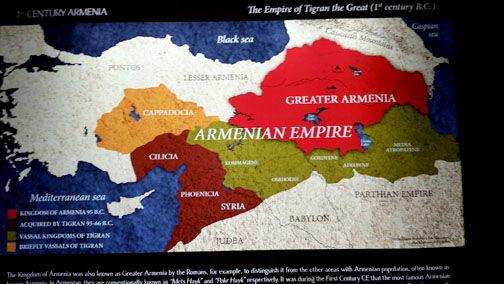 "This exhibition is very different from other exhibits on Armenia," said Tigranna Zakaryan, community outreach director for Glendale's emerging Armenian American Museum. "It doesn't just depict one aspect of Armenian culture or livelihood but shows a timeline through early Armenian civilization as the very first Christian civilization, history leading up to the 1915 Armenian Genocide, the international humanitarian efforts which followed, and the founding of the Republic of Armenia. Visitors can view graphics, listen to audio, and experience a memorial in the deserts of Syria through the exhibit's many different facets."
The exhibit, which originally opened in 2015 in Mexico City, attracted an estimated 70,000 visitors.
Linda Atach Zaga, who serves as Museo Memoria Y Tolerancia's temporary exhibitions director, described the motivation behind the exhibit.
"[The exhibition] seeks to raise awareness about the Armenian Genocide by inspiring reflection, respect for ethnic and cultural diversity, and upholding human dignity," Zaga said. "The Armenian cause is rooted in the universal theme of preserving memory as the first step in mobilizing toward global human rights and this exhibition is uniquely designed to encourage critical reasoning among diverse audiences as they relate the Armenian context to broader social justice themes."
In creating this partnership with the Armenian American Museum, Brand Library Director Cindy Cleary said the exhibition supports the Library's mission to offer its community a diversity of ideas that will inspire curiosity and enrich their daily lives.
In conjunction with this exhibit, there will be complimentary events offered to the public at the Brand Library & Art Center. Visit www.ArmenianAmericanMuseum.org or call the Brand Library at (818) 548-2051 for more details on these programs.
"Armenia: An Open Wound" will be on view at the Brand Library & Art Center until June 11 during the library's regular hours: Tuesday and Thursday from noon to 8 p.m., Wednesday noon to 6 p.m., and Friday and Saturday from 10 a.m. to 5 p.m. Brand Library & Art Center is located at 1601 W. Mountain St., Glendale.
The Armenian American Museum is a developing project in Glendale with a mission to promote understanding and appreciation of America's ethnic and cultural diversity by sharing the Armenian American experience. When completed, organizers state that it will serve as a cultural campus that enriches the community, educates the public on the Armenian American story, and empowers individuals to embrace cultural diversity and speak out against prejudice. Currently, efforts are underway to negotiate a ground lease for a proposed site in the area of Central Park at Colorado and Brand boulevards. For more information about the Armenian American Museum, visit www.armenianamericanmuseum.org.