By Brandon HENSLEY
The interview began in a similar style to the opening lines of "The Adventures of Tom Sawyer."
"Where's Mark?"
No answer.
"Is he … not … coming?"
Again no answer.
Before they offered an explanation, the present members of the band Flights Over Phoenix – Keith Longo, Chris Santillo and Jordan Nuanez – exchanged uneasy looks. Something had clearly happened. After some hemming and hawing, Longo eventually answered. Keyboardist Mark McKee had parted ways with the guys just days before this February night at Thee Elbow Room, a craft beer and food hideaway tucked in the Montrose Shopping Park.
With the addition of drummer Nuanez, these had looked like promising times for the burgeoning band. It released a two-song EP called "Runaway California" last year, and just played the Surf City Marathon in Huntington Beach in early February. But now McKee is gone – an amicable split, Longo noted – leaving them again with three members.
"I think he didn't ultimately see himself going down the path we were going," Longo said. "Before it got too deep in, it was … both parties I think had felt that way for some time."
Longo's path to Southern California came a little out of nowhere. A native of Massachusetts, the vocalist had been playing in cover bands while his wife, whom he had gone to college with, was bartending. One day Longo asked if she wanted to pack up and move west. Here they were, runaways to California.
The lyrics of the title track off the EP seem biographical.
"What if I just pack up my things and go?" Longo remembers thinking.
He has a confident and reassuring singing voice, but his tone is nothing like the edgy '90s vocalists he at one time aimed to emulate. Instead, Flights Over Phoenix – a UFO reference; Longo is big on extra-terrestrial stories – falls into the pop/rock category, with shimmering guitar chords and synth bass. Their sound is polished ("maybe a little too polished," Longo admits. "That's been a point of contention.") and their monochromatic look for their video "Runaway California" elicited a response from a YouTube commenter that while the music satisfied, the members looked like a boy band.
"That's the harshest comment we've gotten, and they're going to be a lot worse – hopefully," Longo said, evoking the axiom that there's no such thing as bad publicity.
Not that Santillo minded the comment. Here's a guitarist who might love pop just as much as he idolizes Jimi Hendrix. Ask him about Zayn Malik's departure from One Direction and he'll respond, "How much time do you have? Grab a pillow."
A product of St. Francis High School, Santillo met Longo through Craigslist when Longo arrived in SoCal looking to jam with people. Santillo, who played music as a kid, had since ended his first career choice of becoming a fireman. He participated in the L.A. County Explorers program growing up, and had dreams of being in the Fire Academy. But apathy eventually set in and, while taking classes at Glendale Community College, he realized he was going nowhere fast. A fireman suit and helmet now didn't seem as appealing as a Fender Stratocaster and a pedal board.
"I love it. I see a future here and it's all I want to do, so I decided to go full bore," Santillo said.
Touring the world playing drums with the pop group LMFAO would be the definition of going full bore, and that's exactly what Nuanez did earlier this decade. A graduate of Crescenta Valley High School who spends much of his weekends playing worship music at Montrose Church, Nuanez never feels more at peace and alive at the same time than when he's behind his kit. Touring with a monster band was something he probably couldn't pass up, but Nuanez had been looking to be part of his own group for some time.
"I met these guys, and it was perfect. I was like, this is what I've been looking for," Nuanez said. They started jamming, chemistry developed, and soon Flights Over Phoenix didn't need to hire studio help for drumming anymore.
"When we got Jordan it was really cool to hear how the drums would sound," Santillo said. "We could work them out and tweak things and define the parts."
Longo said the band had room to grow. If they aimed for 10 on a song, they'd end up with a seven. Nuanez brought an outside perspective that perhaps they needed.
"[I was] a fresh set of ears if there was a song they had been mulling over for six months, because your ears are going to get tired of listening to that," said Nuanez, who looks less like a drummer and more like the Red Hot Chili Peppers front man Anthony Kiedis, with his black hat and thick moustache that zooms downward.
Nuanez is set be married this summer to girlfriend Brianna Akahoshi, who is in the modeling business. Beautiful people doing beautiful things, and Nuanez is pretty stoked where his life is headed.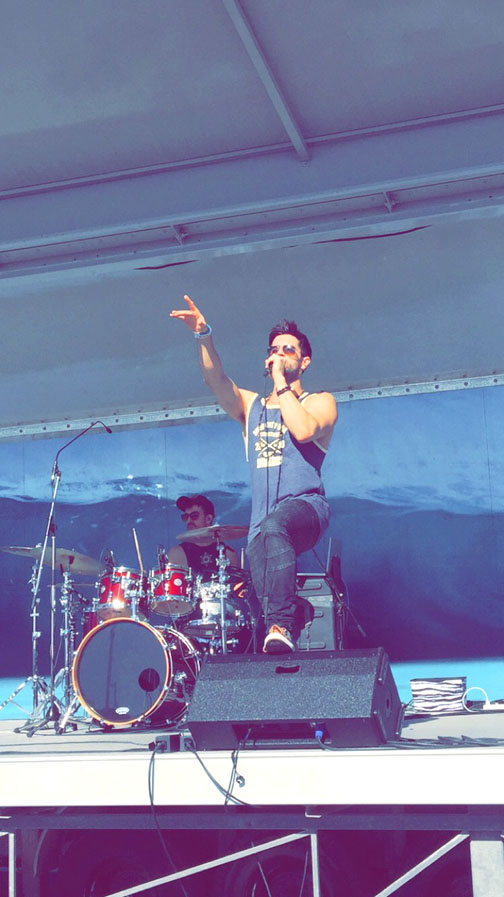 "It feels great, man. Obviously the next few months are going to be eventful, but all for the better. I'm very confident about all of it," he said.
Flights Over Phoenix still has to remedy the hiccup, as Longo puts it, about their recently departed member. But hopefully, he said, they'll get back on track, schedule new shows and release a slew of unreleased songs they have ready to go. All they want is to get out and play.
"To be able to do something you love and have success at it and to have enough people enjoy it to want to come see you," Longo said. "I can't imagine it's a bad feeling."