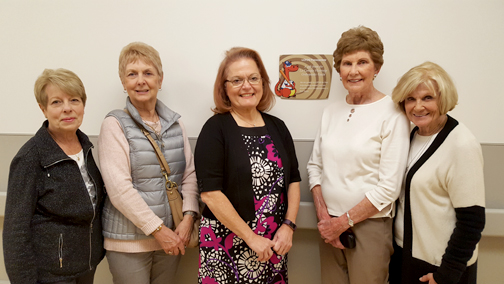 The February meeting of the La Cañada Flintridge Orthopaedic Guild (LCFOG) found President Joan Cleven once again at the helm. Cleven agreed to lead the group for a third year and many of the officers agreed to retain their positions on the board also. Ginney Pruitt, Marie Baker, Elinor Bunn and Joanne Ploszaj will serve as vice-president, secretary, corresponding secretary and treasurer respectively. Special guest Jacklyn Freyberger, who has been filling in for Danielle Hockwald-Barrios, announced that she was recently appointed assistant director Corporate Relations. Her new position at Orthopaedic Institute for Children (OIC) will allow her to continue to be involved with LCFOG on a limited basis. Hockwald-Barrios, assistant director Volunteer Services & Community Outreach who recently returned from maternity leave, will continue to provide support to LCFOG, along with Senior Director Mary Beth Perrine, the OIC longtime liaison. The entire OIC staff provides immeasurable support to LCFOG and its events and functions.
Discussion was held regarding the organizations' annual fundraiser to support the Orthopaedic Institute for Children (OIC). OIC sees over 60,000-plus patient visits for children annually at its Urgent Care Center and Outpatient Medical Center in downtown Los Angeles. Children requiring orthopaedic care ranging from to broken bones to the need for surgery and, in some events, prosthetic devices are welcome without consideration of the parents' financial status. Patients ages' range from newborn to 18, many of who are underinsured or uninsured. LCFOG members donate their time at various OIC sponsored events during the year and several members regularly help out at the It's a Bargain Thrift Shop throughout the year.
In addition, the Guild hosts an annual Book and Author Luncheon which raises funds to support the care given to these children by top ranked physicians and surgeons at OIC. In 2016, LCFOG raised $14.000 at the luncheon thanks to the leadership of co-hosts Ginney Pruitt and Carolyn Geer. That amount will be donated to OIC. For 2017, co-chairs Caryl Pettit and Arlene Massimino will organize and coordinate the fundraiser to be held Oct. 24. Venues and menus are being considered at this time with more info to follow.
Membership in LCFOG is open to any woman interested in supporting an organization that makes a difference in the lives of children who need orthopaedic care. Meetings are held on the first Thursday of the month September through June usually at members' homes. Dues are minimal and every member is expected to be involved in the Book and Author Luncheon in some way. All profit from the Luncheon is distributed to OIC, which believes in caring for all kids.
Contributed by Arlene MASSIMINO