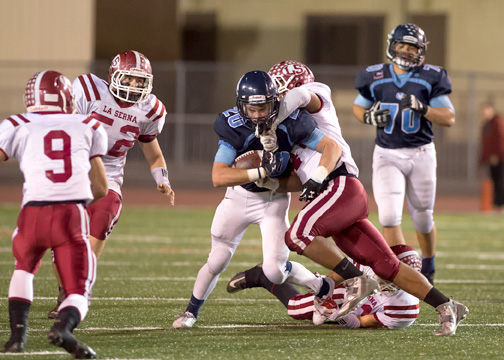 By David O'CONNOR
Bostin Lakin, a junior wide receiver from Crescenta Valley High School's varsity football team, was selected by Assemblyman Mike Gatto to attend this year's Rose Bowl game for being an inspiration to his team and to kids in the community.
Each year Gatto gives away his Rose Bowl tickets to a local athlete who has overcome adversity. He comes to the decision after reading newspapers, speaking to teachers, coaches and college counselors and analyzing the various and unique stories that have touched countless lives.
"We select the local athlete who we think is an inspiration to the community and this year that was clearly Bostin," said Assemblyman Gatto. "He has a very inspiring story, to be told that you're never going to be able to do what you love again and to keep at it and make sure that you do whatever you can to get back. That's very inspiring."
Lakin experienced an unexpected seizure at the end of his sophomore season and was forced to endure a five-hour brain surgery that removed a cavernoma – a cluster of blood vessels that causes seizures.
Gatto said it's unimaginable the year of ups and downs the Lakin family experienced and they were in his thoughts during Lakin's recovery.
"We feel for Bostin's family and obviously it's a time of joy … joy for the championship and joy for the fact that Bostin's surgery was successful and he is playing sports again and of course enjoyed the season," Gatto said.
"Hopefully he will have lots of joy at the Rose Bowl game, too. I think something that every high school boy wants to do is go to the Rose Bowl," he added.
As Lakin wrestled with the possibility that he might never take the field ever again with his teammates, he ended up experiencing an unforgettable year on and off the field thanks to unwavering support that gave him the confidence necessary to play at his best.
"The season was awesome winning CIF, but the recovery was kind of hard because I had to wait a while because I couldn't play any contact sports for six to eight months after the surgery," Lakin said. "Once I could play again everyone was awesome, everyone was great and super supportive and always asking me if I needed anything and kind of watched out for me on the field for a while, too, which was really cool knowing that they were looking out for me."
Lakin played an important role in CV High School winning its first CIF championship in 41 years. He averaged nearly 44 yards each game and 12.7 yards per catch with eight total offensive touchdowns. He also played solid defense as cornerback, recording 20 tackles and four interceptions. Even though his stats show what part Lakin played for the team, they don't reveal how much the wide receiver cherishes playing football again with his teammates and the special bond that they share with each other.
"It means so much. It's so cool that I was able to go out and play football every Friday night with my brothers. We ended up having a really good season and doing what we wanted to do," Lakin said. "They would do anything for me anytime, on or off the field and I would do the same for any of them too."
As the Falcons treasure a much-deserved off-season break, Lakin has his sights set on his final season of high school football and is hoping to achieve back-to-back championships. But the thing that he holds dear is knowing he will be able to set foot on to the football field with his teammates for another season filled with precious memories.