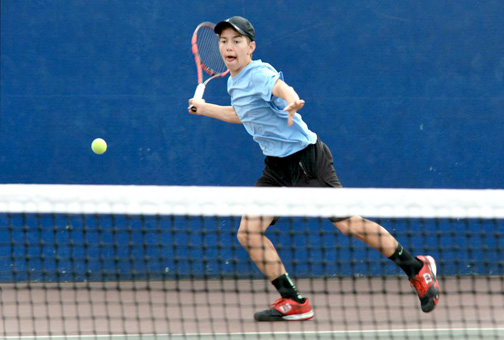 By David O'CONNOR
An undermanned Falcons boys' varsity tennis team suffered its first defeat of the season at the hands of St. Francis High School at Scholl Canyon tennis center on Friday, with half of its team unable to play contributing to the 13-5 loss.
Falcons' Head Coach Sam Hyun received a phone call late Thursday night from the team's key No. 2 singles player Albert Chtchyan, who had to withdraw because of the flu. No. 3 singles player Jonathan Frink was attending the BNP Paribas Open in Indian Wells, which is the biggest professional tennis event in the world outside of the four grand slams.
Leading doubles players Kevin Rowe/Charlie Kim and Alex Chang/Danny Chung and Jae Wang had already committed to a school orchestra performance, which was organized six months ago. This meant that Hyun was forced to field an inexperienced team against a strong Golden Knights outfit and couldn't avenge last year's loss to their cross-town rivals.
Hyun believes the challenging encounter will enable his team to regroup over spring break with quality preparation for their standoff against Arcadia.
"It's a good lesson and humbling experience, but we will practice harder and, with the seniors coming back, they will practice harder during spring break and we will see how we play against Arcadia," said Hyun.
Falcons' leading singles player Arin Meserkahni (below) led from the front with his devastating serve and crushing forehand in his 6-0, 6-4, 6-1 wins, but it wasn't enough to lift his teammates to overcome a tough situation.
Sometimes a team will learn more from a loss than a win. Meserkhani feels that his team will bounce back from this comprehensive defeat and gave credit to St. Francis for being a force to be reckoned with.
"As long as our team played as hard as they could, then I'm happy with that," said Meserkhani. "We're going to learn that hopefully not to have anybody missing and keep the same focus, keep solid and practice every day."
Meserkhani is not only focused on winning the league title with his teammates, he is also looking to use the next two years to develop his game and reach the necessary level to be in the reckoning for a four-year playing scholarship at, preferably, Pepperdine University, USC, UC Irvine or UC San Diego.
"I just started playing 18 and under juniors, so I'm trying to reach a good national ranking and I'm also going to be playing at Glendale College," Meserkhani said. "If I can get a four or five star recruiter in the next two years, that would be great. A lot of colleges would look forward to that."
The local resident recently played in the pre-qualifying for the BNP Paribas Open, which opened his eyes to what is required to compete and thrive at the highest level.
Although Meserkhani describes his 6-1, 6-1 second-round loss as "not too great," he admits it was a beneficial experience and has gained a lot of confidence from going toe-to-toe with recent UC San Francisco signer and top 20 U.S. junior player Ryan Marker.
While the Falcons' star player marveled at Marker's lateral movement and unrelenting level of play, what stuck out was his opponent's ability to take advantage of even the slightest opening that enabled him to drill winners with ease.
"I've learned to take the serve part of it and make my serves a lot stronger, make my physical a lot stronger and make my side-to-side running, forehand and backhand really solid and to play a lot more aggressively," Meserkhani said.
If you keep on doing the same thing, you keep on getting the same result. This notion certainly didn't apply to the Falcons as they easily accounted for visiting Pasadena 17-1 on Thursday in a non-league match.
Junior and singles substitute Eric Kim replaced Meserkhani in two sets to gain some precious match practice for their fixture against St. Francis and Rowe and Kim switched doubles partners with Jang and Chung as a one-off experiment. Kim only conceded two games in his singles (6-0, 6-2), Chtchyan swept his singles 6-1, 6-0, 6-1 and Frink won 6-1 in all three singles sets.
Wang/Woong Yoon prevailed 6-3, 6-1 and Rowe/Chang only lost three games in their three sets (6-0, 6-2, 6-1) and Kim/Chung were untroubled in their 6-2, 6-0 wins.
Although it was a consistent performance across the board, Hyun was more impressed with Wang and Woong Yoon for their complementary doubles partnership.
"Jason and Jae were the best today. Jason was trying serve and volley and working [well] and Jae was brilliant around the net," said Hyun.
The Falcons next face host La Cañada in a non-league match on Monday, March 23 at 3:30 p.m.