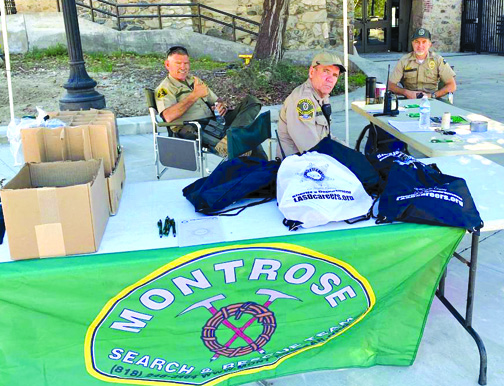 By Bethany BROWN
Montrose Search and Rescue held team tryouts on Saturday, Nov. 13 at Deukmejian Wilderness Park. Applicants were tested on their physical ability to complete a timed two-mile hike with a 1,500 feet elevation gain along the Crescenta View Trail.
Event organizer, MSR member and assistant director of LA County Sheriff's Dept. Mike Leum said that, with 31 people in attendance, he was overjoyed to see a much larger turnout than initially expected.
Each applicant received a number upon arrival and start times were staggered two minutes apart between individuals. MSR team members waited at the top of the mountain and would radio down to other members stationed at the base of the trail to record times as people finished the trial.
Nearly all who participated in the tryouts finished the hike in an hour or less, which was what the team was looking for in applicants. Those who didn't quite make it were encouraged by the team to continue training and try again in the future. Moving forward, MSR intends on making the tryouts a quarterly recruitment event. The next one will be held in early 2022.
"It was a great success," Leum said. "This marks the first step of a long and purposeful journey to team membership."
Leum emphasized that it was better than social media recruitment efforts in the past because it allowed the team the chance to interact with candidates in person, form connections and answer any questions the candidates asked about the process of joining and expected next steps.
Next steps will include a thorough evaluation of compatibility, skills and aptitude for this field of work in candidates eager to join the team. They must, among other requirements, obtain an EMT certification, apply to become a reserve deputy sheriff and successfully pass MSR's mountaineering and rescue training program.
"Everybody has expressed an interest in taking the many steps needed to become a member so from here it will just be a matter of gauging their level of commitment because it is quite a commitment to undergo – not just the process but the long-term membership itself," Leum said. "Saving lives is serious business and so is the preparation and training required to do it; it's not for everybody."