During the annual ceremony at Two Strike Park, local veterans shared their thoughts on how to honor service personnel.
By Mary O'KEEFE
"Veterans' Day is to celebrate people who fought for America."
That was how fourth grader Mikael Sakaroff, a Fremont student, described Nov. 11. Mikael was at the ceremony at Two Strike Park on Monday afternoon with his mom Lilit and sister Arevik, a second grader, and brother Alex, third grader.
On the eleventh hour of the eleventh day of the eleventh month the "war to end all wars" was over. This is the day that those who presently serve and have served in the United States military are honored.
"You can thank veterans with a kind word, thanking them for their service," said Lynn McGinnis, commander of American Legion Post 288.
McGinnis reminded the audience at the Two Strike Park Veterans' Day recognition that those who are deployed are not the only ones that need support.
"You can help those deployed [in the military now] with care packages," he said, "but it is important to remember during this holiday season the spouse and families of those deployed."
He suggested ways of helping those families including running errands for them, offering to mow their lawn or babysitting.
"Or take a plate of cookies over. Invite them to your Thanksgiving table," he said. "This will be the loneliest time of the year for a spouse [and family] of a deployed soldier … the smallest gestures are welcome. We have a caring, generous and creative community. I know you will respond with affection."
Warren Spayth, commander of Veterans of Foreign Wars Post 1614, agreed with McGinnis about how important even the smallest act of kindness is for a veteran and their family.
"I am a Vietnam vet and I can tell you from personal experience a thank you goes a long way," he said.
Several dignitaries were in attendance at Monday's Two Strike commemoration including Congressman Adam Schiff, Assemblymember Mike Gatto and former Assemblymember Anthony Portantino. A representative from Senator Carol Liu's office was also there.
Schiff spoke of his mentor, World War II veteran and former New York prosecutor Robert M. Morgenthau. Schiff joked that the character of the DA in the television series "Law and Order" was based on Morgenthau, and that the character was actually named Adam Schiff.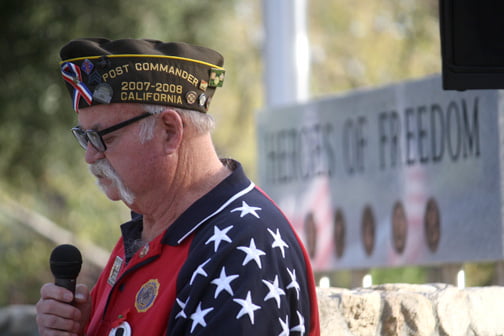 But it was Morgenthau's service to his country Schiff focused on.
"He told me that he had [served] in the Navy in WWII when a ship he served on was hit by a kamikaze pilot," Schiff said. "The reason they knew was because they found a propeller embedded in the ship."
Morgenthau was lucky that time but not the next. The ship he was on was hit and it sank. Schiff asked him what he did then.
"In characteristic modest WWII fashion he said, 'I swam,'" he said.
Morgenthau told Schiff that the captain of the ship had seen several of his friends die during the war and, as they were being sent back home, the captain said he was going to check himself into a hospital.
He was not injured physically but mentally. Schiff said it was unusual to hear about post-traumatic stress disorder – PTSD – with WWII veterans. In fact, the term did not even exist back then.
Schiff spoke about how important it was for everyone to support veterans when they return home.
"Veterans, you have done your part and now it falls on the rest of us to do our part … [to make certain] those coming back get the help they need," he said.
U.S. Marine Travis Scott was in the Two Strike Park audience and though Veterans' Day honors those who have served, it is those who have passed that he thinks of most.


Scott is a Crescenta Valley High School 2008 graduate. He went directly from high school to the U.S. Marines. CVW readers will recognize him as the soldier who couldn't wait to come home to a Rocky Cola restaurant hamburger and shake. He completed his five years of service in September after two tours in Afghanistan.
Veterans' Day, Fourth of July, Memorial Day – all of these holidays remind Scott of comrades lost. His constant companion is a bracelet that reads Nicholas S. Ott, Aug. 10, 2011 – the day of his death. Cpl. Ott was 23 years old from Manchester, N.J. Ott was in a Gator-type, 4×4 off-road vehicle. He and other soldiers were traveling down a road that was known for being dangerous.
"They got into the Gator and hit three [small] IEDs [improvised explosive device]. There was not much damage, but then there was another hit," Scott said.
That last hit killed Ott. Scott wears the bracelet with his name on it every day; without it, he said, he feels there is something missing.
Within his platoon Scott's job in Afghanistan was to sweep for IEDs. It was something he volunteered for and was good at.
"The first tour, they asked for volunteers and I just raised my hand," he said.
He knew the basics of what he had volunteered for, but the reality was a little different. Still, he did his job and when, on his second tour in Afghanistan, the request for a volunteer was made, he again raised his hand.
"This time I knew what to look for," he said. "Like if you are going through a harvested corn field – if you see a patch of disturbed earth, you know that's what you are looking for."
For him it was all about attention to detail.
"I think the hardest thing, looking back, about being in Afghanistan is the area you were in and that you only had the amount of guys you had," he said.
There were about eight U.S. Marines, a corpsman and six or seven Afghans working with them. Because of the isolation, Scott said, the thought, "What would happen if …" was always on their minds. "What if the platoon gets into a heavy battle?" "What if we hit IEDs?"
They were 10 to 15 minutes from the nearest base that could help.
"If we get hit, who will be the next closest [platoon] and how fast can they get to you?" he said was a common question. The thought, too, was how fast could they react if the troops closest to them came under heavy fire.
"You were isolated from everyone else," he said. "That was the hardest thing."
Veterans who served in any war have similar stories. Constant were the concerns for their fellow soldiers, for civilians and the thought of whom they left back home.
Scott is looking to go to college now. He said he will try it for a while, but has told his family he is keeping his options open and may join another branch of the military.
"I know I want to do college and get back into sports," he said. Scott was a Falcon football player.
He has joined American Legion Post 288 and VFW Post 1614. He has also taken time to visit the Fire House youth center to talk to students who are thinking about joining the military.
For himself, he's unsure what the future holds.
"Going through five years in the [U.S. Marines] and two tours of Afghanistan, I am not sure what I want to do now."