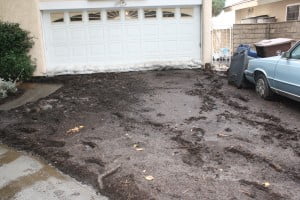 By Mary O'KEEFE
Residents throughout Crescenta Valley had planned for it, went to meetings about it and knew it was going to happen but that didn't make a backyard and streets full of mud any easier to deal with.  Wednesday night's downpour came and went in a little over an hour and left a muddy mess in its wake.
There were no mandatory evacuations in La Crescenta or La Cañada, according to Crescenta Valley Sheriffs.  Some residents decided to voluntarily leave their homes during the downpour, though.
"Actually not a lot of rain fell," said Bill  Hoffer, spokesman for the National Weather Service in Oxnard. The low pressure storm that came down from Alaska was fast moving and dropped rain sporadically around Los Angeles and Santa Barbara counties.
Less than half an inch fell during the night: Rosemont Middle School rain station measured 0.42 inches.   It may have not been a lot of rain but it seem to all come down within minutes.
"It just ripped through here and strengthened really quickly," Hoffer said.
Public works employees were out in force during the night and early morning hours to assess and clean mudflow areas.  Mud and debris filled many streets in the Pinecrest and Canyonside areas.  Previous cleaned debris basins are now filled with mud.
Alice Khatchooni came home late Thursday night after the rain to a driveway and yard full of mud.  Los Angeles County Public Works had been to the Starfall Drive residence and laid out the best placement for sandbags.  The home butts up against the side of a mountain that is public works land. The homeowner placed the required sandbags along the perimeter of her front yard and on top of the concrete block fence between the home and the mountain.
"The fence and the sandbags are gone [now]," Khatchooni said.
The mud brought trees and rocks down the side and buried the fence and sandbags.  There was about four feet of mud in her side yard, covering almost her entire side entry gate.
Khatchooni's neighbor Drew  Arrendondo had shoveled a path to the Khatchooni front door.
"It was really difficult to shovel.  The mud and ash mixture is almost like an adobe texture," Arrendondo said.  "It all happened so fast.  It's a mess."