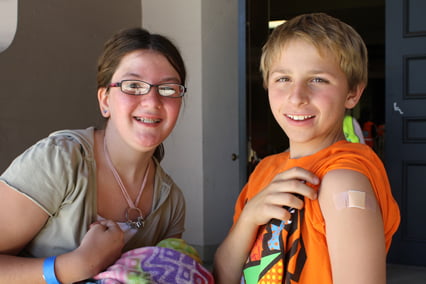 By Mary O'KEEFE
An estimated 3500 people lined up for hours at the Glendale Civic Center on Tuesday to receive the vaccine for seasonal and H1N1 type influenza.
"People started lining up as early as 3 a.m.," said Ritch Wells, spokesman for the city of Glendale.
The sun beat down on the long lines of families as they waited for the vaccine. Kids giggled as they rolled down the grassy hill at the center apparently unaware that they were waiting for a shot.
Glendale resident Jeff Kovach tried to keep his two children occupied as the line slowly moved forward.
"My wife came at 5 a.m. to get in line," he said.
He, like many other parents in the line, were doing everything they could to keep their children's minds off the heat, the line and what lies ahead for them in the clinic.
Glendale fire and police departments were on hand to deal with traffic and crowd issues. Volunteers from Glendale's Community Emergency Response Team manned the doors and helped answer the many questions from those in line.
Sarah Kissell, spokeswoman for the Los Angeles County Department of Public Health, said they had 2900 doses of the vaccine available for Glendale and all were distributed. That did not include the nasal doses of H1N1 or seasonal flu vaccines.
"We didn't have to turn anyone away after they were pre-screened," said Capt. Vince Rifino, Glendale fire.
This is the first round of clinics L.A. County Department of Public Health has held since Oct. 23. Vaccine shortages have plagued several states, California included.
"We have been told we will be receiving more vaccine by Nov. 8," Kissell said. The next round of clinics will be scheduled after that delivery date.
"We will be continuing with them throughout the fall," she said.
Because the H1N1 vaccine is in such short supply, county workers asked those in line who were not considered a priority patient to wait to get their dose.
Those considered priority and who should receive the immunization according to the Centers for Disease Control and Prevention are pregnant women, health care and emergency medical services personnel, and everyone from 6 months to 24 years old. Also included are anyone who may have health conditions associated with higher risk medical complications from influenza, including asthma, and caregivers of infants under 6 months.
"That is one thing we were telling parents, that if they had children over 6 months, we were asking them to wait for the vaccine," Kissell said.
It is recommended that children under 10 receive two doses of vaccine four weeks apart. Kissell said the county agency does take that four week schedule into consideration when planning the clinics but because of the inconsistency with vaccine availability she advises parents to follow up with their own medical provider.
Kissell said that almost everything is running according to schedule as far as the increase in number of influenza cases.
"We expected to see an increase when school began. We knew the vaccine delivery would be small but we didn't expect it to be this small," she added.
The threat of and concern over the H1N1 flu pandemic was the driving force that had parents stand in line for hours at Glendale's Civic Center.
That was the motivation that had Jacob Margalt drive from Castaic to line up at 5:15 a.m. for a six hour wait with his two children.
"There was a clinic [near Castaic] that had only 100 doses available and was for pregnant women and health care workers," he said.
So he packed his two kids, Sean, 12, and Shanna,10, in the car.
"I got the nasal spray," Shanna said.
"I got the shot," Sean added.
Sean admitted that standing in line was not something he had looked forward to but was glad when it was over.
"It will keep me safe," he said.
The upside to the day was that they both missed a day of school.
"Yeah that was the good part," Sean said.