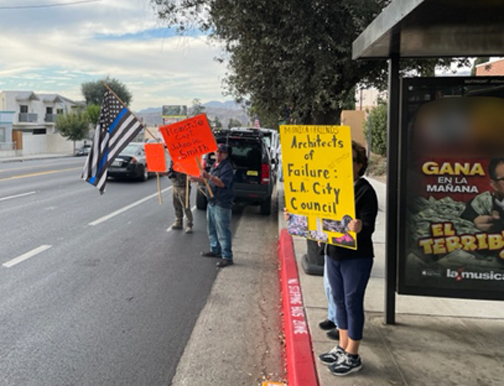 By Mary O'KEEFE
On Friday, Oct. 28 some Sunland-Tujunga residents gathered in front of the North Valley Neighborhood City Hall in Tujunga to protest the transfer of a police captain who they had come to trust and respect.
Capt. Johnny Smith was recently transferred from the LAPD's Foothill Division to the 77th Street Community Police Station, according to the Los Angeles Police Dept. website.
As of late Tuesday the website listed Capt. Johnny Smith as still being at the Foothill Division, along with Capt. Jeffrey Hollis, and a call to the station confirmed Capt. Smith was the station's captain. Then on Wednesday the website was changed; Smith is gone from Foothill and Capt. Jeffrey Hollis and Capt. Marco Lozano are listed as the station captains. Capt. Smith is now listed as being at the 77th Street Community Police Station with Capt. Ahmad Zarekani.
Transferring LAPD personnel is nothing new but what has concerned those who were demonstrating on Friday was what they felt was a "curious" move.
In 2021 Smith filed a complaint against the City of LA in regard to "whistle blower retaliation." In the complaint, Smith alleges that officers had used beanbag shotguns to illegally target demonstrators, including the media, during the 2020 protests after the murder of George Floyd. The complaint states the demonstrators "were not threatening any individuals or property, but were peacefully protesting."
There were other incidents Smith alleged as well. The complaint further states that Smith disclosed this information to his supervisors and demanded the incidents be investigated. After his complaints were made he was demoted from the rank of Captain III to Captain I. The complaint alleges this was done in retaliation for his whistleblowing.
Tujunga resident Mark Dutton is concerned this transfer may have something to do with the whistleblower complaint as well.
Demonstrators were in front of the city hall in Tujunga to send a message to their city representative, Councilwoman Monica Rodriguez.
Dutton said he was not surprised that retaliation would be made against the LAPD captain but was surprised at how quickly he was demoted and replaced at the Foothill Division.
"He [Smith] was very good for this community," said Lenny Freeman, a demonstrator on Friday in support of Capt. Smith.
The feeling of those demonstrating was that Rodriguez is not receptive to their community concerns.
"My personal experience dealing with [Rodriguez's] office is there is very little feedback to this community," said Sandra Chaney, a local resident who was at the demonstration.
"I do not comment on ongoing litigation or LAPD personnel matters," stated Rodriguez in an email response to a request for a statement from CVW.