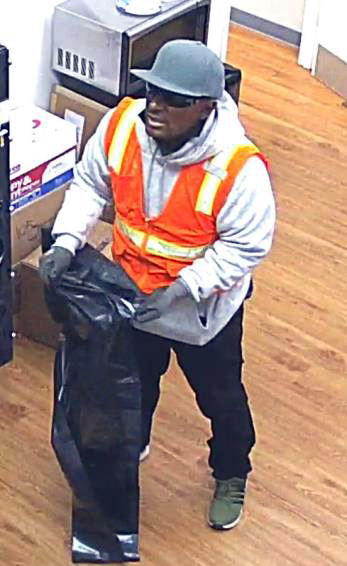 The Glendale Police Dept. is seeking the public's assistance with identifying a male involved in a robbery at the Sprint store located at 2027 Verdugo Blvd. in the City of Glendale 91208.
On Wednesday, Aug. 22 at 4:46 p.m. the male suspect walked into the Sprint store and ordered employees and a customer to the back room and told them to lie down on the ground. The suspect removed a trash bag from his jacket and filled the bag with iPhones and iWatches. He then fled the scene in a 2006-08 gray Toyota Tacoma.
The male suspect is described as approximately 5'6" to 5'10", 35-45 years old, medium build, dark complexion (possibly wearing dark make-up) and wearing a light gray hoodie, orange safety vest, jeans, green Adidas shoes and gray gloves.
Anyone with information regarding this case is encouraged to call the Glendale Police Dept. Robbery Division at (818) 548-3987.
View the surveillance footage at https://bit.ly/2OGy9Gt.