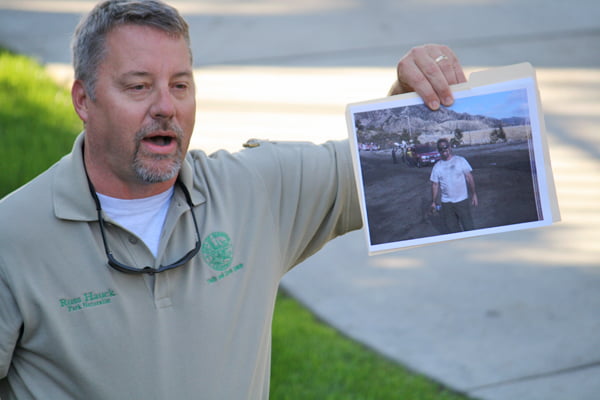 By Mary O'KEEFE
Glendale firefighters responded to a Department of Parks and Recreation employee's request for a rescue at Deukmejian Wilderness Park in the afternoon of Oct. 7.
Park Naturalists Eric Grossman and Russ Hauck were in the park, searching for a bear that had been reportedly seen by scientists who were working in the area.
"There are a number of science projects in the park [and scientists are]] scouting locations [for science equipment placement] and looking for artifacts," Hauck explained.
He was about a mile from the Deukmejian Park office with scientists from the U.S. Geological Survey and fellow park naturalist Grossman. The scientists had reported they had seen a small bear in the area which is what Hauck and Grossman were investigating.
"I thought I had seen something so I climbed up the [side of the mountain]," he said. Not finding anything, he started to move back down, but soon realized that the soil was unsafe.
"The hillside was loose and unstable," he said. Hauck knew that climbing down would be too dangerous, so he optioned to climb up about 10 feet.
"The rock was so loose; I would grab a rock the size of a stapler and it would fall which would loosen a rock the size of a shoebox, which loosened one the size of a toaster [and so on]," he added.
He continued to climb up about another 10 feet to a ledge area that
could safely hold two people.
"It looked like it would be easier to continue to go up but I didn't know what was above [the spot where] I was. I could find myself on the side of [the mountain] and that would then make a very dangerous rescue. I stayed where I was and decided to call for a helicopter rescue," Hauck said.
Glendale Police Department's helicopter sighted Hauck and waited until L.A. City Air 3 arrived.
"We [Glendale Fire Department] and Los Angeles City Air worked together," said  Capt. Vince Rifino, Glendale fire spokesman, of the incident.
Emergency crews air lifted Hauck off the ledge and back to solid ground.
The incident is a testament to how dangerous the area is after the Station Fire.  Hauck knows the area well and hikes the trails on a regular basis.
"Everything is incredibly dangerous and I just proved it," Hauck said. He added that the Department of Parks and Recreation is continuing to investigate the report of a bear sighting.
"[The scientists] said they saw a small bear; that could mean that there is a mama bear too," he said.
The bear or bears still seem to be deep into the canyon and no sightings have been made by residents.
"About three years ago we had a sighting but nothing lately," Hauck added.